Trajectories from COVID-19
About the project
The COVID-19 pandemic is disrupting our fundamental assumptions and values and the way we think about the world. 
The most profound changes come from shifts at these levels. They allow the shifting of the foundational narratives which we use to make sense of the world, to order our societies, and to organise collective action. 
To help navigate this extraordinary time, and to help us understand what this might mean for the decade ahead, we have identified four broad emerging trajectories from COVID-19. 
These trajectories, and the mindsets they represent, are a guide to understanding what may happen next. They can help us detect early signs of shifts we might see and to anticipate some of the consequences.
They have been designed as a living and flexible systemic futures tool with many possible uses. Ultimately, it's a tool to help change-makers work with this moment of deep discontinuity to deliver transformational change.
View the latest signals of change we're tracking against each of the trajectories (click on one of the icons to view relevant signals of change):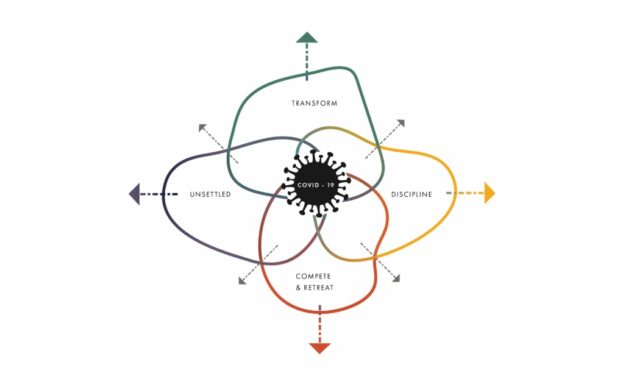 Welcome to the Trajectories from COVID-19 discussion space
Hi, it's Joy Green and Louise Armstrong from Forum for the Future! We both work on systemic futures - with over 25 years of combined experience working on projects and collaborations framed around future actions. A common thread across our work is the awareness that our mindsets and stories we tell ourselves shape our actions and understanding of what is possible. This is a space to explore that practice of how we do this and how to work and shift our worldviews.
The discussion board
Holding a mirror to 2020: what have you seen, heard and experienced?
It's been around 12 months since COVID-19 first emerged and nine months since the first global lockdown tipped us all into discontinuity. 
Ecological thinker, Joanna Macy, has likened this experience to 'entering a bardo' – a space between known worlds where there is no map. It is disorienting and frightening – but also a space of potential transformation. The gift it gives is 'mirror wisdom' – the opportunity to see everything reflected just as it is. The parallels to the pandemic are clear: COVID-19 has paused previous normality and held up a mirror to our world and societies. A great deal that was hidden has been starkly revealed, in a continuous stream of extraordinary events. 
Every level of our lives continues to be affected. So many structures that seemed solid have shifted while others have proved more resilient than expected. Some certainties have been swept away – but not all of them are going quietly. Some new patterns are becoming more apparent. 
There is undoubtedly yet more uncertainty to come but as the curtain falls on 2020, now is the time to look deeply in the mirror, reflecting on what we have seen, what has shifted, what is strengthening or weakening, what we have learned or unlearned. 
What have you seen shifting? What have you learned? What have you unlearned? What does this reflection tell you about the year ahead?
Share your thoughts in comments and join us in spotting a collective landscape of shifting patterns.
Here are learnings we captured on a Miro board in a session with Forum for the Future's UK & Europe team.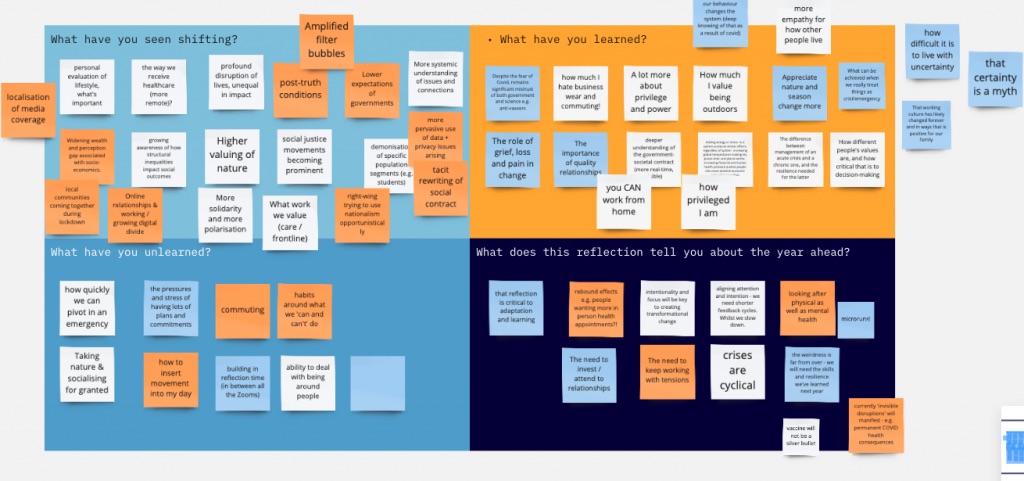 Future of Sustainability – Event Q&A
On 14 and 15 October 2020 we held two launch events for the report From System Shock to System Change: Time to Transform which outlines our work on the trajectories from COVID-19. This thread lists all questions asked by our audiences during the first event. Have a look and feel free to ask any further questions!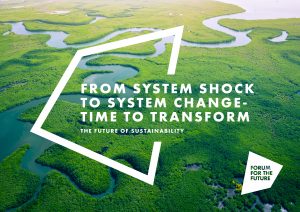 Do you have an idea for
a Live Research project?
If you have a challenge in mind, commissioning a unique and bespoke Live Research project on the Futures Centre will help you tap into diverse perspectives across multiple markets - engaging with audiences in creative ways from online debates and webinars to social media and in-person workshops.
Get in touch