This article outlines a comparison/overview of the trajectories from COVID-19 created by Forum for the Future – highlighting their respective characteristics, similarities and differences.
The COVID-19 pandemic is not just disrupting daily life but also the fundamental assumptions people hold and their way of thinking about the world: what we term their mindsets and their narrative.
Trajectories from COVID-19 – what is it?
To help navigate this extraordinary time, and to help us understand what the changes happening now might mean for the decade ahead, we have identified four broad emerging trajectories out of the COVID-19 discontinuity.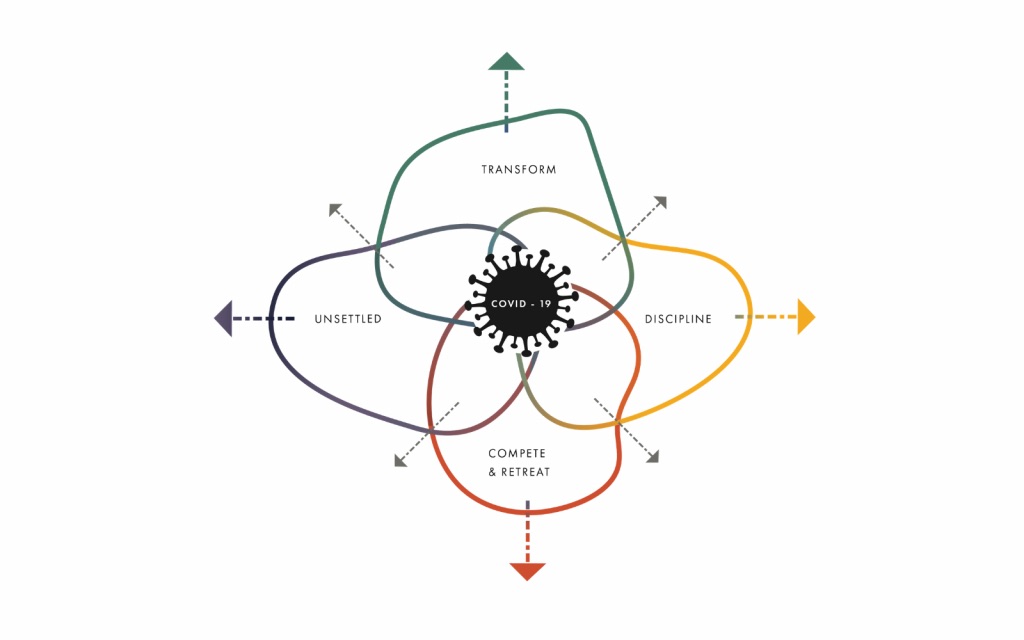 These trajectories and their underlying mindsets are a guide to understanding what may happen next, to detecting early signs of the sort of shift we might see, and anticipating some of the consequences.
They have been developed into a living and flexible systemic futures tool to help change makers work with this moment of deep discontinuity to deliver transformational change for sustainability.
Th trajectories toolkit includes:
– short films on each trajectory
– descriptions of the mindsets responsible for each of the trajectories – included in the Future of Sustainability report
– signals of change we're seeing in support of each trajectory – we are tracking them in our Live Research project: Trajectories from COVID-19
How to use this comparison tool?
Scroll down to view a table that compares and contrasts the trajectories and can be used as stimulus for thinking about different perspectives and possibilities.

To view a full overview of the trajectories and their uses go to How to use trajectories?
NB. The trajectories from COVID-19 aren't fixed and will continue to evolve over time.
For optimal readability, please view on desktop.
Trajectory
Unsettled
Discipline
Transform
Compete & retreat
Mindset
"There might not ever be a 'new normal', the world is now strange and volatile beyond all previous human experience. Previous ways of thinking are not helpful now. Radical resilience, adaptability and opportunism jostle with fatalism and anxiety."
"Greater control is required to maintain public health, safety and security, and to keep growth and global interconnection going as 'normal'. We are prepared to relinquish privacy concerns for this."
"Planetary health and human wellbeing come first, and are interconnected. Deep change needed to reset the system is possible, desirable and happening.

We can't go back to 'before'."
"There is not enough to share. We must retreat to protect our own kind. Our survival and prosperity comes ahead of the survival and prosperity of others."
How might we approach change?
Resilience
Manage complexity
Living system / regenerative
Reductionist, control, protect
What might the power dynamics be?
Mixed power – unstable
Partially distributed, centralised decision-making
Distributed
Centralised / fractured
What's the nature of relationshipsIn society?
Multi-faceted
Independent / atomised
Interdependent
Dependent, familial
Understanding of sustainability?
Deep Adaptation – 4Rs – Relinquish, make Resilient, Restore, Reconcile
5 capitals
Regenerative
3 pillars / localism
What might the nature of societal structures be?
Recognition of uncharted territory for civilisation, need for deep collective resilience.

Designed for radical resilience.

Designed for chronic instability.

Designed to reduce polarisation?

Decentralised technology.
Acceleration of automation, normalisation of surveillance to protect public health, globalised system, efficiency, growth.

Remote working and education is normalised.

Increased mediation by machines and reduction of human contact.
Building back better to accelerate transition.

Deep reframing and reform of governance and economic models.

Distributive structures grounded in local communities and bioregions.

Human-centred technology.
Zero-sum shorter-term focus on immediate needs (rather than transition).

Focus on self-sufficiency at national or regional level.

Hierarchical structures, return to traditional models.

Nepotistic.


What is the nature of flows (e.g. energy, resources, information)
Designed to cope with continual interruption.
Tightly tracked and monitored, global.
Living system model – cyclical and integrated with natural flows and feedback loops.
Restricted, competitive.
What are the strengths?
Most closely allied with forecast climate projections – and global events of last 5 years.

Ties into jugaad and existing innovation for resilience.
Aligned with many existing trends and systems and power structures.

Maintains global collaboration.
Aligned with biosphere boundaries and restoration.

Tackles inequality problem at deeper level.
Creates sense of belonging, revaluing of local.
What are the shadows and weaknesses?
Fatalism;

Exhausting in long term – liable to collapse into Compete and Retreat if not allied with Transform.

Risk of hijack by charismatic pirates.
Risk of shallow transition, too little too late without Transform;

Risk of authoritarianism and/or dehumanisation if accountability is poor;

Potentially brittle/ overly complex in the face of continual disruption.
Radical shift – is there enough time?

Risk of elite capture and distortion / exclusion of marginalised (especially if economic and governance reform is stymied);

Risk of disruption / uprooting by events;

Risk of being distorted to generate 'natural hierarchy' or to reinforce historic injustice if integrated with Compete & Retreat or some traditional models.
Risk of derailed transition, collapse of global collaboration and downward spiral.
What else comes to mind as you see this? What would you add to this? What would you change? What metaphors would you use to describe each trajectory?
If you'd like to use these trajectories to support your work or organisation, get in touch with Louise [email protected]
Read next:
How to use trajectories?
What are the key dynamics shaping the 2020s?
The Future of Sustainability report
Why Futures, Why Now?
2021: our narrow window to transform our key systems