The Russian invasion of Ukraine this February shocked the world as the Ukrainian people lost their lives, livelihoods, and homes. The invasion has caused the greatest humanitarian crisis in Europe since WWII and the impact on human beings cannot be understated.
For those of us outside of Europe, and somewhat removed from the immediate conflict, it can be difficult to make sense of what is happening and the size and scale of disruption coming. In our fragile and interconnected world, a global catastrophe at this scale, causes ripples and waves that impact many of the complex systems that underpin our society. These impacts will be felt for many years to come.
To help in own understanding of this issue, Forum's Americas team discussed some of the implications of the war in Ukraine in their region.
---
As the war in Ukraine worsens, the US faces great scrutiny as to how it will act. While there are conflicts taking place all over the world, this is the first time, in several decades, that Western countries are feeling the direct impacts of conflict, in their everyday lives. The war will have huge implications on many of our global systems; food, energy, and supply chains, to name a few. There will also be a significant impact on humans through migration, loss of life, and demographic change. This large disruption to the global order, combined with existing crises around climate, economic inequality, and racial justice, creates a highly unstable and fragile world. A just and regenerative future is needed now more than ever, and stakeholders, from national governments to individual citizens, are feeling the urgency to act.
At Forum, we use tools to try to think productively about the future. To assist in our sensemaking, we undertook a futures wheel exercise. The futures wheel is a process that helps organize thinking about the future.
The exercise is simple, at the center, we consider a possible change or development the future might hold- in this case, the continued Russian invasion of Ukraine. We then look at the second and third order consequences of that change.

In undertaking this exercise we did not attempt to be comprehensive of every impacted system, we rather focused on the systems in which the Americas team currently operate and focused on mapping the signals of change we were spotting to the futures wheel.
The interconnectedness of the signals and the systems they represent became immediately apparent, as key dynamics, such as the nexus between environment, conflict, and human health.
By considering the impact on our region if the conflict continues, we are able to anticipate how impacts may be interconnected, unintended consequences, and surface possible areas of intervention.
Signals from the Americas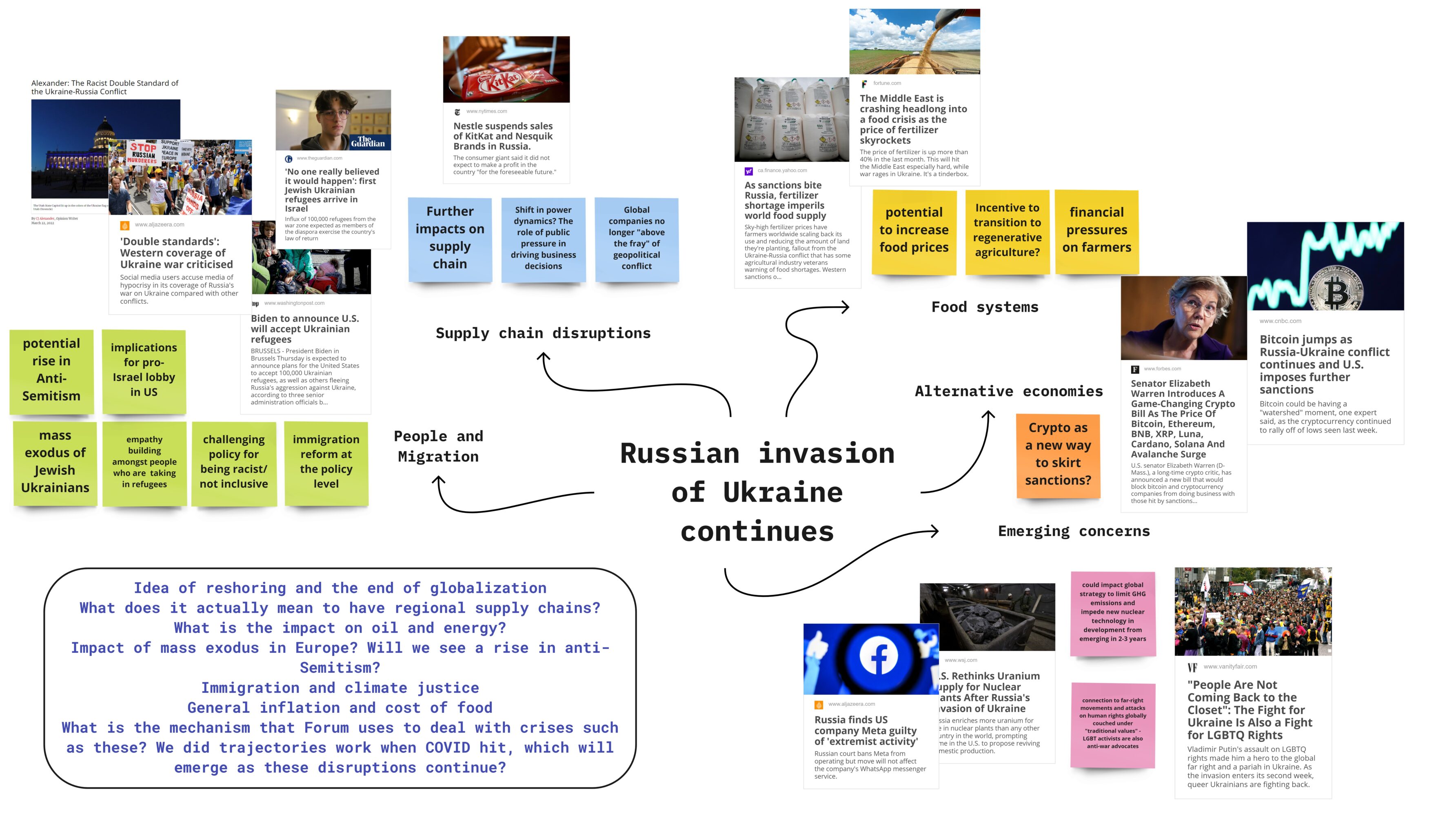 Impact on food systems

Russia is the world's top exporter of fertilizer and soil nutrients. Farmers from Brazil to Zimbabwe use Russian fertilizer to increase their crop yields. As sanctions on Russia increase, fertilizer is harder to come by, leaving growers unable to source the fertilizer they need. In the Middle East, fertilizer is 40% more expensive than it was in January, sparking fears that this will decrease global crop yields as farmers simply cannot afford it.

The impacts of the high cost of fertilizer are felt most acutely by the farmers themselves as they face increased financial pressure in an industry with already slim margins. Additionally, if food prices do increase, this will create greater food insecurity among already vulnerable populations. However, this may also be a tipping point that encourages a necessary shift towards regenerative agriculture in place of traditional farming practices.
Disruptions to supply chains

The war in Ukraine combined with the US-China trade war, and climate change-related disruptions, has resulted in further disruption of global supply chains. The pace of supply chain localization is increasing and an estimated half of all global sectors in North America have stated plans to reshore.

However, for some raw materials, the conflict has exacerbated the availability of already scarce resources. Ukraine supplies 50% of the world's neon gas, which is used to make semiconductor chips. World governments are scrambling to obtain alternative supplies. Prices have increased, and this will have implications regarding cost. US consumers who are used to affordable phones and electronics, might have to change the way they consume these goods.
Alternative currencies

As the US and other countries impose sanctions on Russia, the price of cryptocurrency has surged. By early March, bitcoin had jumped up as much as 16% in one day. Some consider this a way for Russian people to avoid sanctions, by utilizing a decentralized currency. Bitcoin and other cryptocurrencies are a way for wealthy Russians to move their wealth out of the country.

At the same time, US Senator Elizabeth Warren has introduced a Crypto Bill, a piece of legislation that would block bitcoin and cryptocurrency companies from doing business with those hit by sanctions.
People and Migration

US president Joe Biden announced that the US would be accepting 100,000 Ukrainian refugees fleeing war. In the past four weeks, nearly 4 million refugees have left Ukraine. Migration at this scale impacts the people leaving as well as the country of origin and the destination country. Will this reform US immigration policy in the long term? And will these refugees be received with empathy?

In the past, the US has been criticized for the way black and brown migrants, such as those from Central America are treated. Can the welcoming of Ukrainian migrants be a force for good, and change immigration policy for the better? Additionally, the welcoming of mostly white Ukrainian migrants has sparked a conversation about racial inequities around how black and brown refugees are perceived and welcomed in comparison. Additionally, as Putin's right wing government takes control in Ukraine, minority groups including Jewish people, and the LGBTQ community are further marginalized. Many of these people will leave Ukraine and the region. What does that mean for the long-term diversity of the region and culture that develops?
So What?
As we started to think about how these developments could change our current trajectory and disrupt global systems, the implications became endless. We see impacts on global supply chains, resource availability, and disillusionment with the world order. The complex geopolitical relationships and dependencies may need to shift and reposition in the face of conflict. What does this mean for the ways we use technology or think of common global goods?
It can be intimidating to consider the size and scope of change, particularly geopolitical change. However, collective sensemaking can assist by giving us a tool to begin to put together some of the pieces. Sensemaking is a continuous practice, and as this tragedy continues to unfold, we hope to continue to be in dialogue with each other and with our community to better understand not only the impact, but ways that we can support each other, the Ukrainian people, and all of those most affected by this conflict.

Share with us what the continued Ukraine-Russia crisis could mean for your region or write to us at futurescentre@forumforthefuture.org to continue this dialogue.
Read more

Regional Sensemaking
Every month, our global teams gather to look for signals of change and engage in rapid generative scanning to bring you our glimpses of the future. What are the implications of these signals? What bigger trends are they pointing towards? What if these various signals of change interacted with each other? What would that lead to? We know climate change impacts will affect regions unfairly, so why not produce multiple futures catering to our various contexts – social, cultural, environmental, and more?
Want regular insights and glimpses of the future straight to your inbox?