Southeast Asia is witnessing changes in a variety of sectors, ranging from the energy system and civil rights to climate finance and conservation. Various countries have set forth ambitious renewable energy targets, even while they still grapple with their coal and natural gas dependency. While palm oil plantations continue to further degrade large parts of the remaining forests, carbon finance seems to be pouring into more conservation and carbon sequestration projects, further fueling the uncertainty of changes that the region is likely to see in the coming decades.

Some changes represent a move towards a Just and Regenerative future (i.e. a future where social systems embody justice and ecological systems are healthy and resilient). Others point us in the opposite direction, where unfair social systems are entrenched and ecological harm is unrestrained.
---
Amidst the very real doom and gloom of climate change and the wide collection of dystopian movies that seem to be making the ranks, the Forum APAC team considered looking at positive signals that suggest a different world is possible. We looked for signals of change that give us hope – emerging narratives, business models, or news events that we are seeing in Southeast Asia that point towards a just and regenerative future. The act of imagining and visioning a different future collectively- one so far from the status-quo –  is oftentimes the first step in starting to deliver real change.

We asked ourselves. What are the implications of these signals? What bigger trends are they pointing towards?

Then, we took it a step further. What if these various positive signals of change interacted with each other? What would that lead to? 
Before you furrow your brows in incredulity, yes, we were aware that the narrative we presented was not a representative one. Positive changes don't always cluster together and contribute to a wonderful future – although, wouldn't that be great? Sure, there are always resisting forces and disruptors.

Still, we wanted to stretch our thinking, and imagine possibilities of a future, based on real changes we were seeing right now.
So, we asked another question, considering these changes and interactions, what Just & Regenerative futures might become possible in 2040?
Multiple futures and navigating narrow visions
For this practice, the sample of signals obtained are influenced by the people contributing to the exercise and their inevitable biases do shape the nature and scope of the created vision. Not engaging or representing certain stakeholders in the exercise can lead to key insights being ignored or understated in the creation of a vision. Thus, creating an inclusive and representative vision of the future necessitates a similarly inclusive and representative engagement and participation of actors.
Outcomes
The range of signals and the themes they cover is indicative of the changes that we are seeing in Southeast Asia. We began to see some common themes emerge across the signals we chose:
Advocacy and social shifts
Energy Transition
Land and carbon finance
Stakeholder inclusion and labour considerations
Implications and Visions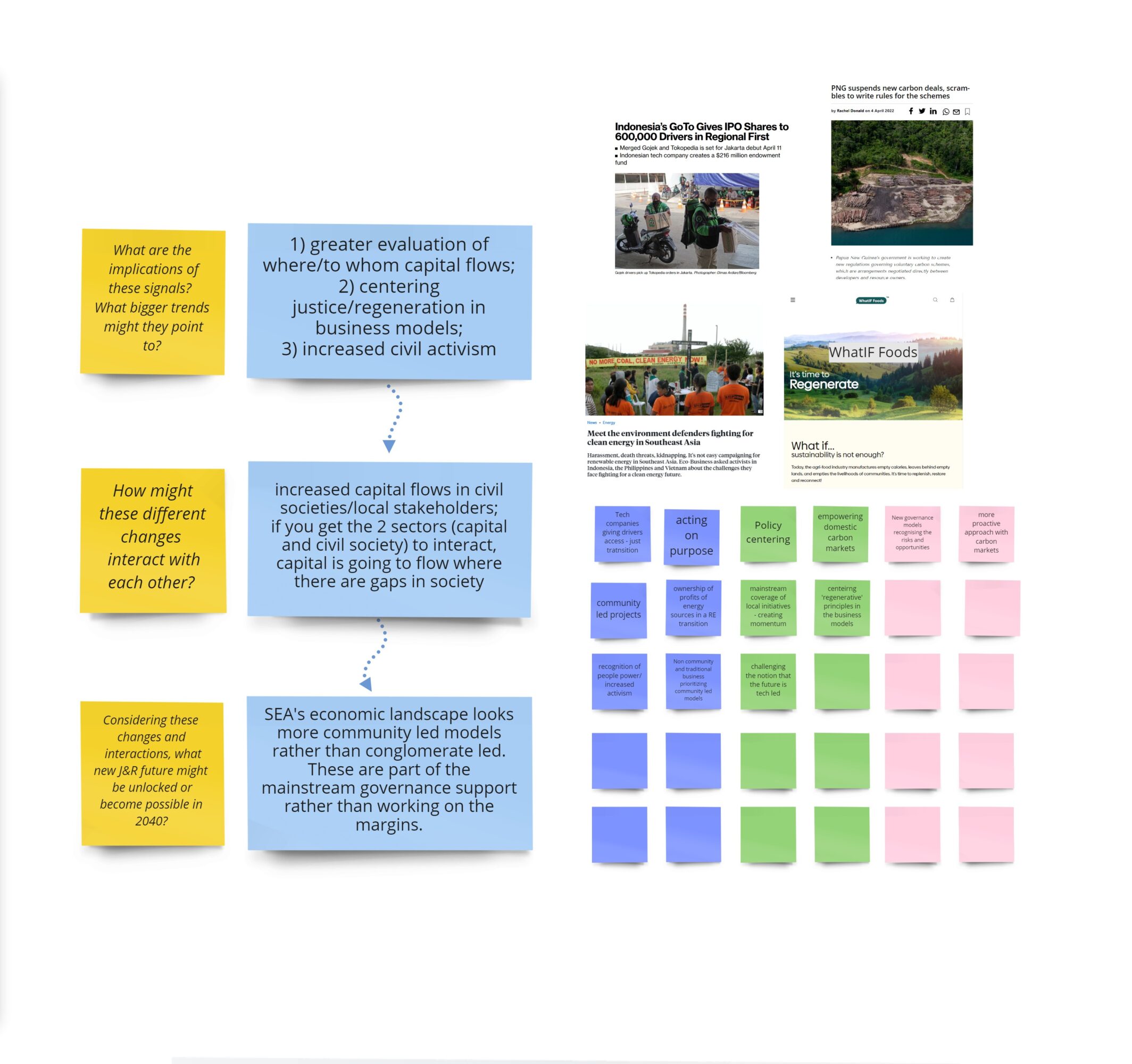 As part of visioning for 2040, in each case, the signals of change were seen to contribute to (or represent) bigger changes/trends. These trends upon interacting and building on each other have led to a 2040 where new just & regenerative futures have been unlocked.
The three visions of 2040 are:
A 2040 with a culture of non-gendered, regenerative soil care

It is 2040 and we have entered a period where care for soil has experienced a revitalisation, supported both by legal court mandates and by voluntary cultural practises. The 2020s saw many courts in and around Southeast Asia catching up to changing societal norms. The demographic shifts and fluidity in gender roles and expectations meant that care work – including ecological care, that had until then been viewed as feminine – gradually became non-gendered. Care for the land and soil has and continues to benefit from these emerging cultures of non-gendered, regenerative care.
A 2040 where workers experience great agency and resilience

It is 2040, and the perceptions of what it means to be a worker has shifted massively in the past two decades. The early 2020s saw workers and working communities gather greater agency, as increased community engagement became a critical part of the renewable energy transition, natural restoration, and labour reforms. The recognition of the effectiveness and benefits of community action were apparent to both the worker and the organisation, which led to shifts in business models, structure of economies, and worker job scopes. A worker in 2040 lives in this new normal where agency and community resilience are paramount.
A 2040 where community-led governance models are mainstream

It is 2040, and Southeast Asia's economic landscape has shifted away from conglomerate-led models towards greater community-led models. The massive inflow of capital into the growing natural capital sector, the renewable energy sector, and the gig-focused labour sector was followed by a greater scrutiny and evaluation of these capital flows. Local governments and stakeholders paused to assess the situation and increasing civil activism made the public consider how these capital flows could benefit the wider community. As civil society interacted with increasing capital flows, the capital flowed right into the sectors and parts of the communities where capital needs were the highest, for these gaps in capital had been well identified by the civil society organisations. This has empowered community-led governance models, which is becoming mainstream, rather than working on the margins of the system.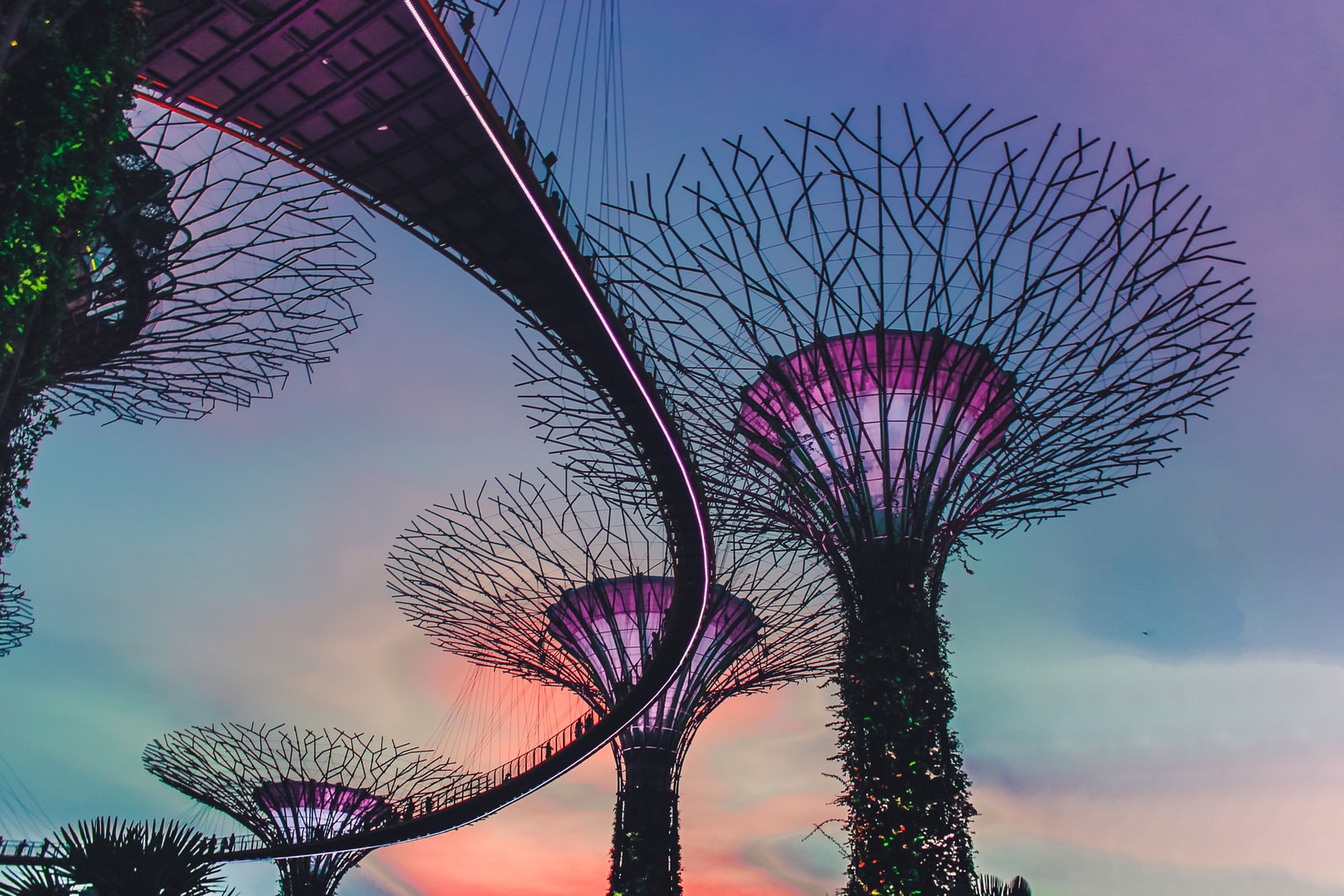 So What? The Purpose of the Exercise
We are not suggesting or predicting what South East Asia will look like in 2040. The purpose of a futures practice is not to predict the future, but rather to make sense of how the world could be changing, in order to design for and move towards a more favourable future.

Predicting South East Asia's future in 2040 is not possible not only because we are using a biased sample of signals, but also because the future is uncertain and complex. At any given moment, multiple futures are possible and different futures are constantly being shaped by small disruptions, like the signals we discussed. There are also numerous examples of signals that hint at hurdles in reaching a just and regenerative outcome.

The purpose of this exercise is rather to envision what South East Asia could look like if some of the positive signals we are seeing right now were to ramp up. The region is experiencing numerous changes – ranging from demographics and labour to energy and finance – and this exercise gives us a window into what is possible in this region. Generating visions for one's own region allows us to better understand and respond to the nuances and diverse effects of the changes that are happening, giving us more agency in the decision-making process.
Share with us what you think or write to us at [email protected] to continue this dialogue.
---
Read more
Are you interested in starting (or advancing) your futures journey?
Here are some tools to build your capacity:

Regional Sensemaking
Every month, our global teams gather to look for signals of change and engage in rapid generative scanning to bring you our glimpses of the future. What are the implications of these signals? What bigger trends are they pointing towards? What if these various signals of change interacted with each other? What would that lead to? We know climate change impacts will affect regions unfairly, so why not produce multiple futures catering to our various contexts – social, cultural, environmental, and more?
Want regular insights and glimpses of the future straight to your inbox?