Where next for plant based innovation and its role in a just transition to better diets?
About project
Catalysing a just transition to better diets
Increasing the proportion of plant-based food people eat is one of the crucial steps towards more sustainable, healthy diets, and there is huge excitement, investment and momentum around plant-based innovation in Europe and the US. However, that innovation is not necessarily well-aligned with ensuring that nutritious, sustainable food is widely affordable, accessible and desirable to a wide range of people and communities. As it stands, plant-based innovation is not delivering sustainable nutrition for all.
What if we could harness the energy around plant-based innovation to help catalyse the transformations in the food system that are urgently needed? What kinds of innovation, in the widest sense, do we need to deliver a healthier, more sustainable and, crucially, more equitable food system, from new approaches to innovation and new business models, to cultural and mindset shifts? How might plant-based innovation help drive that 'just transition' of diets in Europe and the US?
This Action Sprint [live June – August 2021] is the first of a series hosted by the Great Protein Transformation Challenge, each of which explores a key question around the role of protein (from sustainable livestock to new alternative proteins) in contributing to food system transformation. 
Workshop 1
As part of the first Action Sprint, we asked the cohort to consider the importance of  'just transition' and more equitable access to good food and the priority of this within achieving healthy sustainable diets. The results showed that over a third of the cohort viewed it as a top priority.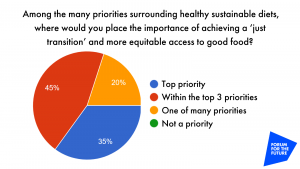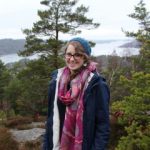 21 Jun 2021
Examples of plant based innovation
What inspiring examples are you seeing of plant based innovation contributing to equitable access to healthy and sustainable diets? Please share in comments. You can also add signals of change by clicking on the Submit a signal button.