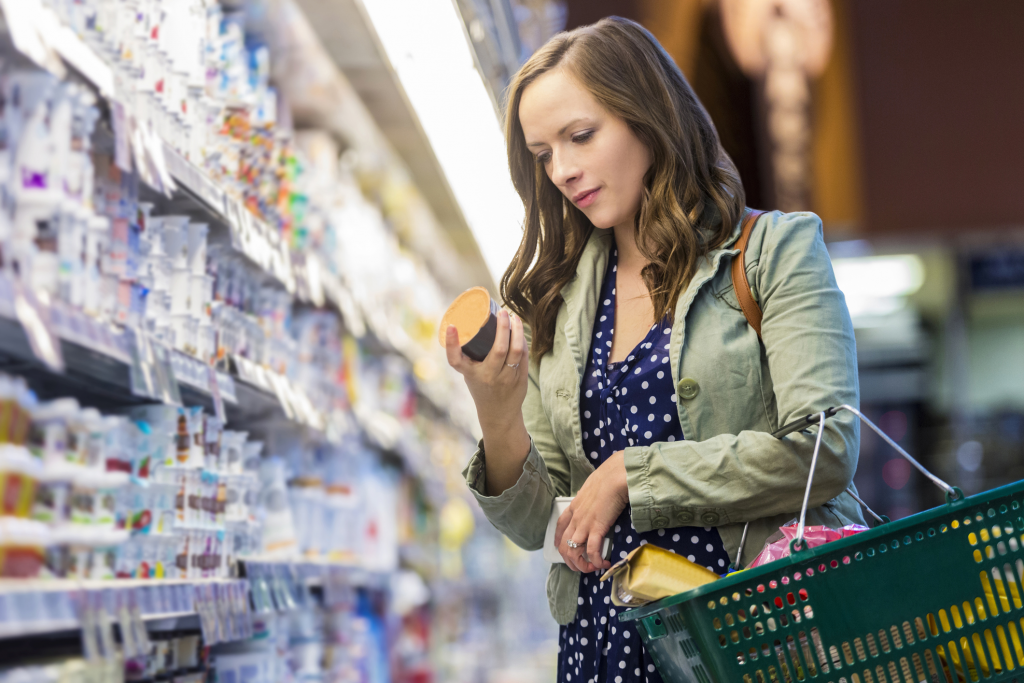 The past two years have witnessed a plant-based diet revolution, particularly in the US and Europe. We have seen everything from celebrities endorsing more plant-based eating, to meat and dairy analogues flying off the shelves, marketing campaigns promoting veg, and a push to re-embrace the humble lentil in our lives.
It is widely recognised that we don't eat nearly enough of the good green stuff in Westernised diets and that the emphasis on more plant-based eating – done well – can be a key step in the right direction for more healthy, sustainable diets. However, despite the current enthusiasm around plant-based innovation, much of the current effort and investment is not necessarily well aligned to deliver on health, nutrition and sustainability. In particular, there is a significant risk that any gains will be unevenly distributed (or worse, that it could perpetuate or exacerbate existing problems in peoples' access to good food).
Our food system in Europe and the US is already desperately uneven. Many people are food insecure – as highlighted by the COVID-19 pandemic – and in a situation of eating more 'empty calories' with lower nutritional quality than those on higher incomes. At the same time, there is an emphasis on shifting our diets to be more sustainable, yet this also often comes at a cost for the end consumer and can be very difficult for many people to access. This dietary inequality often mirrors and compounds other forms of disadvantage and discrimination, for example around race and gender.
Yet we need these shifts in our diets to happen fast and at scale, given the pressures on our planet, our food security and our health and wellbeing – without leaving anyone behind. Can we harness all this momentum around plant-based innovation, to help catalyse a just transition to healthy, sustainable diets for all? (Plant-based innovation cannot resolve all the complex, systemic challenges we face around food, health and equity – and some of these challenges go well beyond the boundaries of the food system – but we believe that it has potential to catalyse positive shifts, if done in the right way.)
So where next for plant-based innovation?
We have drawn out four dominant narratives that we are hearing. In their own way, each of them addresses dietary inequality, why access to healthy and sustainable diets is so uneven, and the potential role for plant-based innovation in shifting the dial. Through our upcoming Action Sprint as part of the Great Protein Transformation Challenge, we will use these narratives as a tool to enable exploration, inspire discussion and reflect on those bigger questions.
Four narratives on addressing dietary inequality
When drawing out the four dominant narratives we are hearing, we found they differed in their emphasis around whether healthy and sustainable diets are currently available and affordable for people: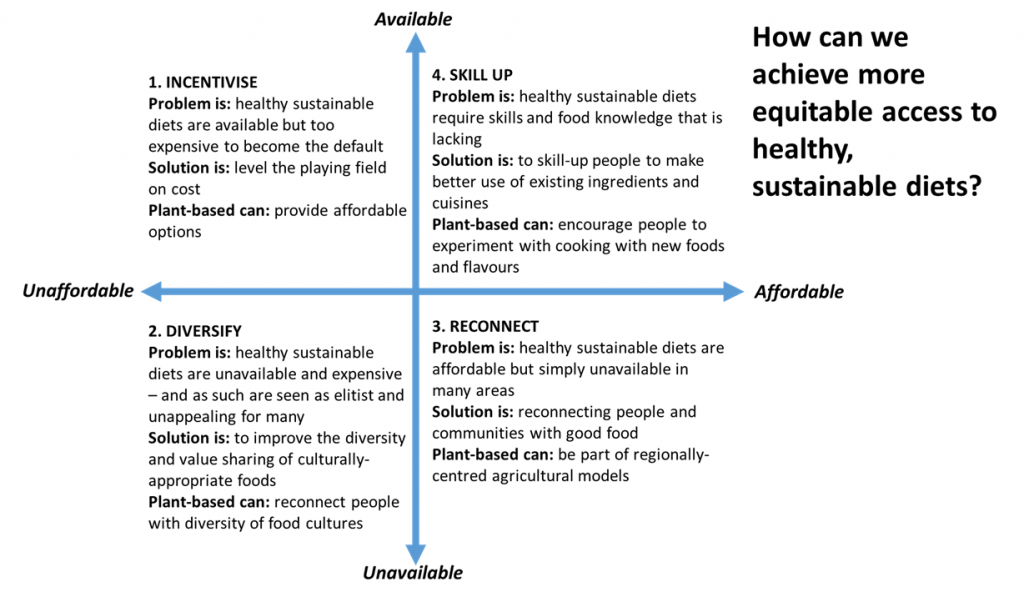 We aren't highlighting these narratives as mutually-exclusive visions to choose between, but instead as a tool to move the discussion forward and, critically, to enable action. The stories don't cover all existing points of view, or every angle of each perspective; and none of them represents absolute truth, but each contains important grains of wisdom. They undoubtedly have both limitations and elements of value and potential. We want to explore the tensions between these differing visions, as well as possible synergies, to identify possible ways to act with more impact – as individuals, as organisations, in collaboration, or collectively.
Narrative 1: Incentivise
The problem is… the foods are available but too expensive to become the default choice.
Nutritious, sustainable foods are increasingly available. They can be found in many stores, in foodservice outlets and online, but they are currently more expensive than "conventional" options.
We generally expect food to be cheap, and have to manage competing demands on our stretched household budgets. For the lowest-income households, it is a struggle to put food on the table, never mind seeking out more sustainable or nutritious options. So while many people may have the desire to consume more healthy, ethical or sustainable products, buying these products remains an occasional treat, but can't and won't become a default habit.
The solution is… to level the playing field on cost
We need to ensure more nutritious and sustainable foods and dishes are available for the same price as less good options – making it a much easier choice for consumers to switch. For food to compete on its true merits, we need to reflect its true costs, in both environmental and health terms.
Plant-based foods could contribute by… providing affordable (e.g. vegetable and pulse-based) options to support dietary shifts.
Potential focus areas for plant-based innovation…
Exploring business models that support the promotion of more vegetables and pulse-based products.
Scale up and invest in production and processing technology to help achieve economies of scale for plant based foods.
Business models based on affordability, such as subscriptions to box schemes and recipe kits with prices tailored to household incomes.
Fiscal mechanisms by governments to tip the balance towards healthy and sustainable plant-based foods.
Narrative 2: Diversify
The problem is… the foods are unavailable and expensive – and as such are seen as elitist, and unappealing, for many.
These foods and ways of eating are seen as elitist by many. They're exclusive – clearly not designed to be for everyone, they don't cater to different food preferences or cultures beyond the "dominant" ones. And thus they mirror, and recreate, many existing inequalities.
The higher cost of these foods also makes many people feel excluded. There's a sense that big businesses are making a large profit on these foods simply because they can. This alienates many potential customers: "These foods are by the rich and for the rich". They deliver high profit margins for those who can already afford to invest; they appeal to and benefit those (shareholders and consumers) who already have money, power, and good health (often still leaving food workers on low wages and themselves food insecure).
The solution is… to improve the diversity and value sharing of more culturally appropriate foods.
We need to make better foods more widely available and ensure the options appeal to a much wider range of communities and food cultures. And we need to find new ways of distributing the returns from better foods.
Plant based foods could contribute by…enabling people to reconnect with a diversity of food and food cultures that celebrate plant based foods and empowering people from those cultures to benefit.
Potential focus areas for plant-based innovation…
More diversity and less elitism in "plant-based" as a movement, e.g. brands and their champions tailored to different audiences and communities, locally-owned food businesses, tailored influencing strategies.
Nurturing diversity throughout: in how food is produced (eg agro-ecological and regenerative farming); in who's producing it (eg so minorities and young people can enter and succeed in farming); in what's available (increasing the variety of foods eaten).
Develop and promote plant-based products/meals that cater to a wider range of food and flavour preferences, across communities and food cultures; and in formats that work for varying abilities to prepare and cook meals (for both individuals, and schools etc).
Business models that support fair returns for producers and redistribute the returns from plant-based foods, such as co-operatives, memberships and community-owned enterprises, consumer and farmer/food worker shares in food businesses.
Narrative 3: Reconnect
The problem is… the foods are affordable but simply unavailable in many areas.
Access to good diets is very unevenly distributed. Many lower-income or marginalised households and neighbourhoods, both rural and urban, simply don't have stores or restaurants nearby that offer an affordable, reliable supply of good, culturally appropriate food.
Many plant-based whole foods are not highly valued culturally, or at least not by the majority. Few food brands and businesses see them as attractive propositions worthy of major promotion. Nor are they valued commercially – they are often not profitable for farmers to grow for human consumption, despite their excellent nutrition and potential as part of regenerative agriculture. So local supply of nutritious and sustainably-produced foods (such as fresh produce) is generally limited.
The solution is… reconnecting people and communities with good food.
We need to empower communities and help people reconnect with local food production and supply.
Plant based foods could contribute by… being part of regionally centred agricultural models that reduce the disconnect between food producers and consumers.
Potential focus areas for plant-based innovation…
Social innovation that creates stronger food culture(s), and ensures people are empowered food-citizens who can grow and cook good food, rather than passive consumers.
Ways of organising markets and groups of people that make accessible business models around plant-based foods work (eg. producer and/or consumer co-operatives, community kitchens…).
Policy innovations: in agriculture: shifting subsidies from commodity staples and intensive livestock farming, to a wide range of tasty, nutritious plant foods; in urban planning: bringing farms, stores, farmers' markets etc physically closer to communities.
Narrative 4: Skill-u

p
The problem is… the foods are affordable and available, but not easily accessible due to a lack of food knowledge and skills.
Plenty of nutritious, tasty and sustainable foods already exist in the US and Europe that are widely available and affordable (e.g. beans, grains…) and are often ingrained within traditional diets. However, it takes knowledge, skill and confidence to prepare meals in ways that are tasty and appealing.
Increasing urbanisation, socio-economic inequalities, and the rising influence of industrial food have disconnected most people from good food – where it comes from, how it was made, how to prepare it. We are familiar with a very limited number of options, ignorant of the full range of foods and flavours we could be using and we often lack the space, equipment and time to prepare better dishes at home.
Out of the home (in restaurants, but also schools and hospitals), many culinary professionals lack the skills to develop appealing dishes that remain affordable despite the additional labour and skill required; or they worry that their customers won't accept unfamiliar foods, textures and flavours, leading to wastage.
The solution is… to support people to skill-up around food and cooking.
We need to build food knowledge, skills, interest and connection across the whole population so everyone values, desires and uses a wide range of nutritious, sustainable foods.
Plant-based foods could contribute by…helping people to transition to new ways of eating by engaging people to experiment with new foods and flavours.
Potential focus areas for plant-based innovation…
Mainstream provision of knowledge and skills for nutritious, tasty plant-based and flexitarian cuisine, from schools to professional culinary training to adult community classes.
Build community food labs, where people can access new culinary skills, into local government sustainability strategies and carbon targets.
Provide opportunities for people to experience the taste potential of wholefood, plant-based recipes, including working with cheap staple ingredients.
Share learning and data across the plant-based "movement" on what it takes to shift eating habits, maximising the potential of e.g. meat and dairy "analogues" as a door-opener/stepping stone to lower-impact eating habits.
Each of these narratives brings an interesting angle on how to achieve a 'just transition'. But the question is: How can we find common ground, align our efforts and collaborate to deliver meaningful change on equitable access to healthy, sustainable diets? And how might our approaches to plant-based innovation need to evolve to help deliver that?"
---
Join our Action Sprint online and share your thoughts on our discussion board – we'd love to hear what innovative approaches to plant-based foods are inspiring you on the journey to achieving more equitable access to healthy sustainable diets.