For all of you who believe in better.
President Elect Biden has been very clear that he will support a 'green transition' and leverage the power and influence of the world's second largest economy to tackle climate change.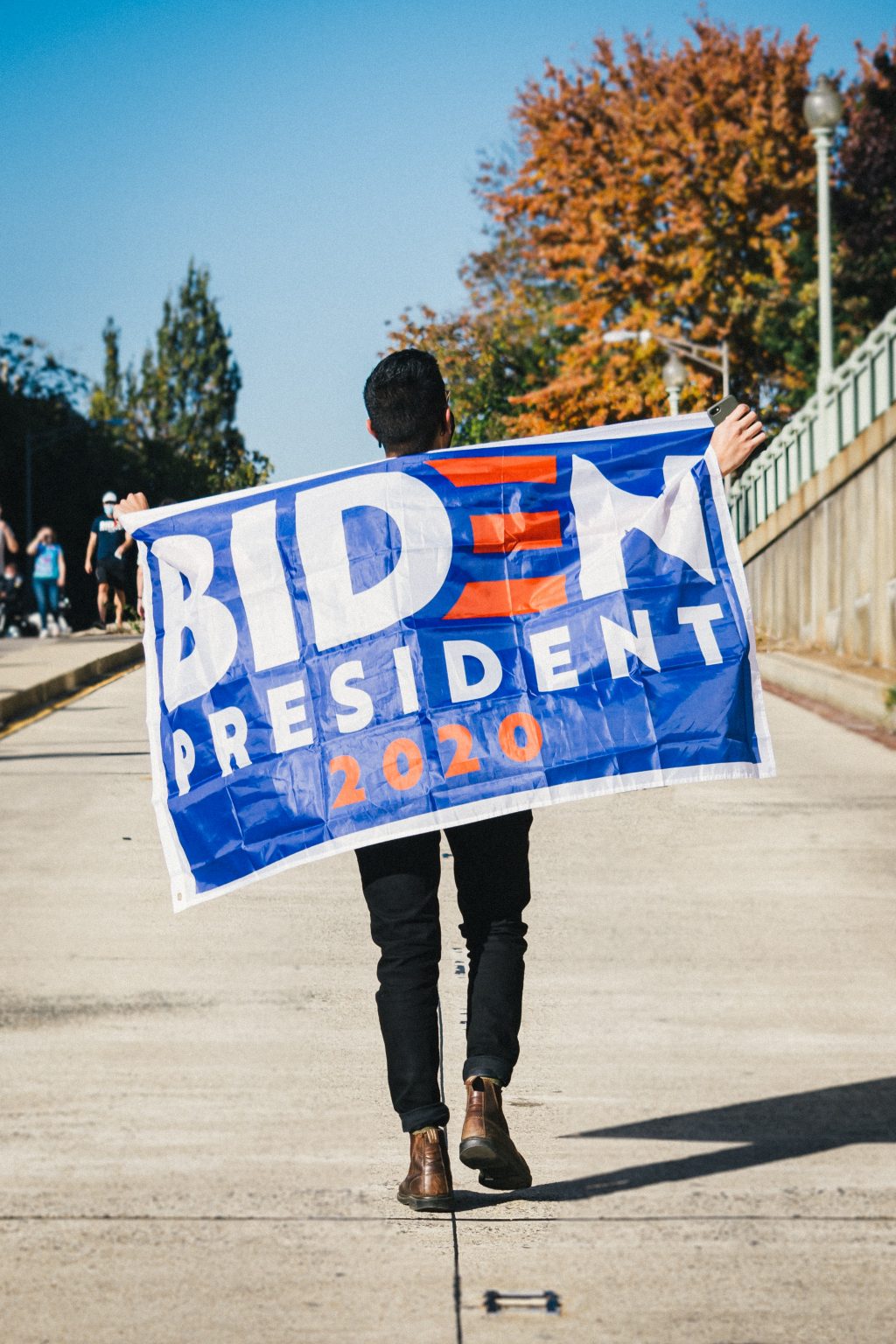 In an extremely divided US, the globally-anticipated election result has been met in equal measure with both celebration and despair. But what is undeniable is that, with all that President Elect Biden is promising, the chances of a socially just and regenerative future emerging from our current uncertain and turbulent reality have just increased. We've gone from the realm of climate change denial to having a very real, legitimate appetite and opportunity to address one of the greatest challenges of our time.
Just three weeks ago, Forum for the Future published its latest Future of Sustainability report, From System Shock to System Change, revealing five key areas already shaping the 2020s – with major influence over human, planetary and economic health, and the interconnections between these areas. Among them, a biosphere breaking down at an exponential rate and compromising our very survival on this planet.
The report also describes four possible pathways emerging from the COVID-19 crisis: Compete & Retreat, characterised by the strengthening of nationalist dynamics, the collapse of what's left of globalisation and international collaboration, and the emergence of fragmented regionalism; Discipline, characterised by the ramped up use of technology for automation, remote connection, surveillance and control; Unsettled, in which current discontinuity continues and manifests in crises of all kinds – climate and ecological, political, social and technological and Transform, in which recovery from COVID-19 is used as a 'reset' – accelerating a fair and equitable transition to a zero-carbon world.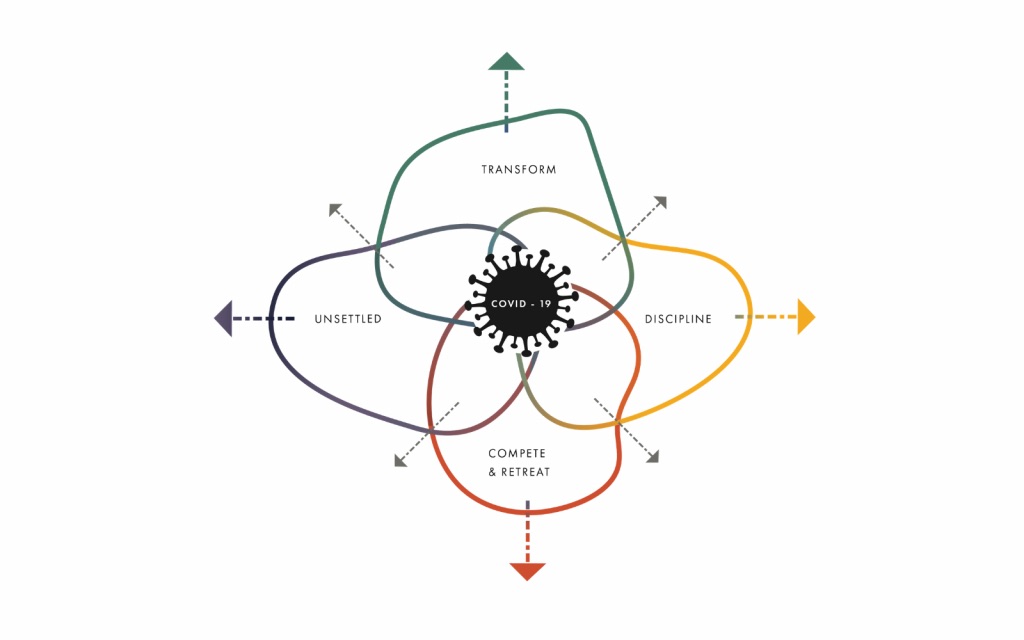 As the report was published, the political future of the US was hanging in the balance – and with it, the implications for the rest of the world. The historical vote has since created an opening in which the likelihood of the Transform trajectory becoming the dominant version of our future is now greater than it was even three weeks ago.
This isn't just because of the prospect of a US style Green New Deal that could not only help address climate change, but tackle an economic recession which is worsening already deep-rooted inequalities. It is also because the new administration seems serious about tackling the drivers of these very same inequalities. That Vice-President Elect Harris will be both the first ever woman and first woman of colour to be elected to the second highest office in the US, signals all sorts of possibilities for transformational change.
This is critical as we are rapidly running out of time…
In writing the report, it became clear that while we started 2020 believing we had a decade to make the choices that would secure the SDGs and alter our current pathway to a hot-house Earth, that window, previously dubbed the 'Decade of Delivery', had shrunk.
While the disruption and pain caused by COVID-19 has been – and continues to be – devastating, the pandemic has also fundamentally (and potentially irreversibly) altered every single system we rely on, which has in turn created the opportunity for wholesale systems transformation – for the better. Coupled with the sheer scale of government stimulus packages expected, it's quite possible that we actually have only 6 – 18 months to take the decisive action needed to deliver a sustainable future.
And it's critical that this action is focused on transformative, not incremental, change towards a socially just and regenerative future. It's also critical that actors across our society and economy engage – but what could this decisive positive, systemic action across government, business, philanthropy and civil society look like?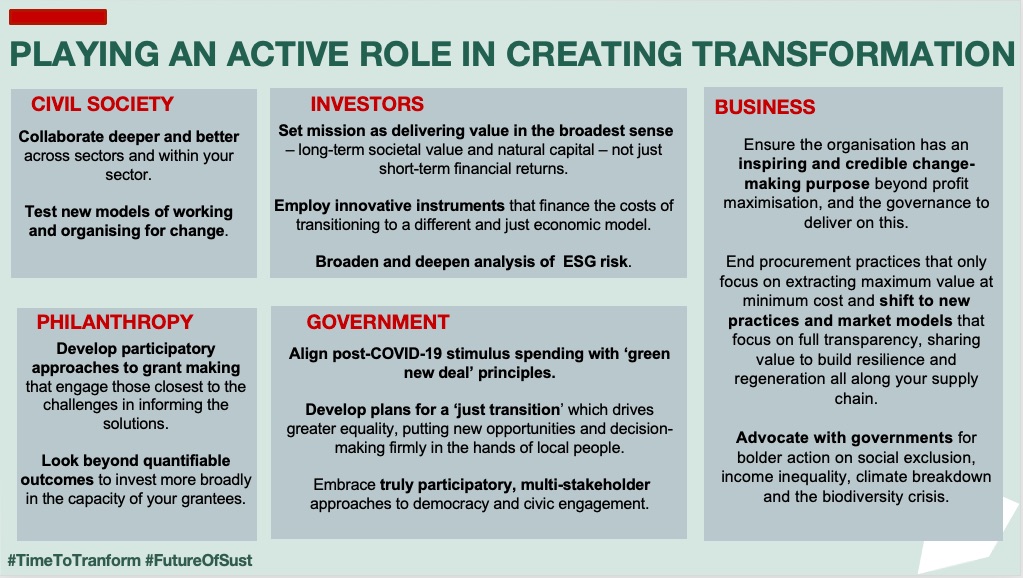 This won't be easy
Whilst the US election results create an opening for the Transform trajectory to become the dominant version of our future, both in the US and globally the other three trajectories will also continue. Our lives, at least in the short-term, will feature Discipline, Compete and Retreat and Unsettled. Even in the space of just one day.
These three trajectories are not all bad news for the prospects of a socially just and regenerative future – there are shades of both light and dark in each of them. For example, in Discipline, leveraging technology to protect public health in the raging storm of a global pandemic makes complete sense. However, to a greater or lesser extent, in all three, some pathways towards sustainable development close down. Particularly in Compete and Retreat, any hope of climate justice fades completely.
We offer the Future of Sustainability as a tool to navigate our current turbulence and uncertainty. We make an attempt to describe the mindsets (values and beliefs we each use to make sense of the world) that characterise all four trajectories in the hope that by understanding what is driving each, at a personal level, we can work with difference and begin to build bridges. And whatever we are experiencing, create pathways to Transform.
It won't be easy – things worth fighting for never are.
Hope
In the end, carrying hope for something better, more equal, just and fair, is central to the Transform mindset. And the stories we tell ourselves, our values, our beliefs are all things we can control.
The US election has created a window for deep change, as has COVID-19. The time to transform is now. We must make the choices that pivot us towards Transform – and the most empowering thing of all? We all have a role to play. As President Elect Biden keeps repeating: We Can.
---
Join our Live Research project – Trajectories from COVID-19 to work with us on tracking the latest signals of change in light of these trajectories
Read next from Dr Sally Uren:
2021: our narrow window to transform our key systems
Related articles:
– The Future of Sustainability report: From system shock to system change
– Why Futures, Why Now?
– How to use trajectories from COVID-19?
– Why – despite everything – the 2020s must be the Climate Decade