The world is facing a growing climate crisis, increase in conflicts, and landmarks shifts in power, and all eyes are on businesses and governments. What signals/signs of change are we spotting that could tell us about the present and possible future role of impact measurement? This is one of the topics that we're exploring in the Beyond Greenhouse Gases project in partnership with Capgemini, as well as the role of futures thinking in impact measurement, within the context of transformative project design. If businesses are to set meaningful and ambitious targets that reflect climate science and the interconnected social justice and ecological impacts, then it is critical that impact measurement approaches likewise considers these issues.
---
The recent multi-agency UN climate science report, United in Science 2022, was succinct in its summation of the current state of affairs: "climate science is clear: we are heading in the wrong direction".
With the world facing a growing climate crisis, an increase in conflicts, and landmark shifts in power, eyes are on businesses and governments to create a just and regenerative future. That is, embracing the power of nature to renew and replenish itself while understanding that humans are a fundamental part of nature. It also means respecting the universal rights and potential to thrive for all living beings, and building the capacity for communities – and the systems of which they are part – to adapt and replenish.
Current developments in business are often described as well-intentioned actions that often address specific problems and their symptoms in isolation accelerating a shallow transition. At a first glance, they can look promising — but the danger here is that they fail to tackle the root causes of the challenges we face or to reset what counts as success. They can trigger unintended consequences, ignore opportunities for multiple benefits across multiple systems and run out of the momentum needed for real, lasting change.
What does 'deep transformation' look like?
Transformative project design and decision-making, as we have been exploring through the Beyond Greenhouse Gases project in partnership with Capgemini, has the potential to shift our relationship with the planet. We can all agree that there is a need to transform the way we act and that the time for deep transformation is ripe. At Forum for the Future, we have been thinking about shallow transitions and the need for deep transformation. There is no blueprint for deep transformation, but features include:
Changing the goals of a man-made system
Addressing the root causes of our challenges and past imbalances
Shifting mindsets so that people appreciate the interconnections between people and the planet
Repatterning power dynamics
Acting at a scale and pace commensurate to the challenge
Many businesses are looking at several pathways to create positive impact, including a strong focus on tackling Scope 3 emissions, alongside Scope 1 and 2. However, according to recent research by Oxford Net Zero, an interdisciplinary research initiative based at the University of Oxford, 65% of corporate net zero targets don't yet meet the UN's Race to Zero 'starting line' criteria. This paints a sobering picture and emphasises the need for deep ambition if we are to limit the global temperature increase to 1.5⁰C.
Diving into businesses impact measurement targets and activities revealed that a large majority are still focused on a 'do no harm' approach, and need to move towards a truly ambitious and future-fit approach. Businesses have potential to transform to a "build capacity for justice and regeneration" approach or mindset by thinking beyond reducing emissions. For example, to regenerate key ecosystems and biodiversity, supporting their value chains to create new business models that enable stewardship of nature.
Signals of deep transformational change
Despite many businesses still having a 'do no harm' mindset, we're spotting increasing signs of companies showing deep transformation in terms of both their ambition and project design. In the last decade, we have seen a shift in discourse as businesses re-evaluate and unpack what exactly it is they are responsible for, such as Scope 3 emissions, and more interestingly, their historical impacts. For example, Microsoft is aiming to become 'carbon negative' by 2030, and by 2050, it hopes to remove all carbon from the atmosphere that it has emitted since it was founded in 1975. They're also part of a 'tech giant' cohort formed of Amazon, Meta, Samsung and Sky Global in 2022, who are collaborating with the Carbon Trust to tackle emissions stemming from our addiction to internet-connected devices.
There are obvious concerns about how accurate we can be when calculating emissions and the speed at which these can be tackled as the window for action to limit the global temperature increase to 1.5⁰C is closing, but cohesive efforts to innovate and build approaches that tackle this undoubtedly create the potential for a greater level of impact. However, as mentioned earlier, there is a danger of conversations and efforts around decarbonisation being esoteric, despite best intentions. So, what can we do to prevent this?
Businesses need to operate within a system that supports innovation, collaboration, and most importantly accountability. Legislation and collaboration play an important role in enabling this. Businesses need a mandate to be innovative, and support each other whilst doing this. They also need to innovate not just through technology but their inherent business models and cognitive structures they are aligned with such as the wider economy.
Recently in the UK, over 100 businesses and finance leaders urged the now ex-Prime Minister Liz Truss, and have repeated their entreaties to the current Prime Minister, Rishi Sunak, to strengthen the economy by prioritising the responses made to the climate and nature crisis. Whether long-term thinking prevails over short-termism is yet to be seen, but we are seeing increasingly mainstream recognition of the interconnectedness of issues. Over the last year, we have witnessed the unprecedented severity of climate-related impacts in the form of devastating floods in Pakistan and fires in the US. Not only are these humanitarian tragedies but also incur massive economic losses and the case for integrated and urgent action by the private sector on both climate and health has been thrown into focus. As this recognition increases, so too does the need for deep impact measurement that likewise, recognises this interconnectivity.
Exploring deep impact measurement
Businesses are incorporating impact calculations pre-emptively in their process of deciding which of the possible solutions to implement in any project, in addition to time and financial considerations. Impact metrics mainly focus on environmental impact factors (from emissions to toxicity levels in water and soil, effect on biodiversity, etc.) but slowly new globally recognised standards are beginning to emerge for social factors. There are numerous solutions available for impact measurement – both open source and private.
Capgemini's impact measurement methodology, shared within our recent joint report with Forum for the Future, Measuring Impact: a methodology to inform transformative project design allows for organisations to be proactive and account for unintended consequences early in the process but we know there's a need for businesses to adopt a systemic lens and go beyond the data. This current state of parallel crisis across economic paradigms with growing inflation, political concerns with Russia's attack on Ukraine, and social movements in Iran offers an opportunity for businesses to reflect. To reflect using methodologies such as this and their business models to examine and grapple with their responsibility towards people and the planet.
Businesses and governments need to consider the various possible realities/futures they may create through the choices they make today. There is a great risk for a shallow transition, a risk that those crises above are accelerated and amplified as a result of mindsets not changing, or impact measurement not being used proactively. Undertaken only at the end of a project or to be included as a metric in an ESG report without further synthesis, companies also have a chance of further greenwashing and misleading stakeholders.
What underpins this mindset shift is the need to embrace an ambitious, inclusive and adaptive approach that focuses on problem solving and collaboration
Mindsets offer us the great unlock when it comes to designing/scaling meaningful technology. We need a mindset that encourages and excites people about this shift or new decision-taking parameters will be required. This will also require a risk-taking and innovative mindset, and one that prioritises iteration over perfection.
It's key that the focus is on deep transition and systems thinking – in which long-term thinking is fundamental – to prevent further adverse impacts and unintended consequences to the growing population and the natural systems that sustain us. Mindsets that prioritise the health of people as well as the planet are crucial, along with valuing justice and equity. A form of social listening could inform projects designed to tackle Scope 3 emissions for example, and be incorporated into impact measurement.
Amongst the multiple possibilities, we explore one future below, one where businesses adopt impact measurement that goes beyond to create systemic ripples. What does business with more systemic principles look like in the future? What could this mean for the economic system and wider society? This is by no means exhaustive or a prediction but rather offer a glimpse into pathways humanity and business could embark upon.
Future of Impact Measurement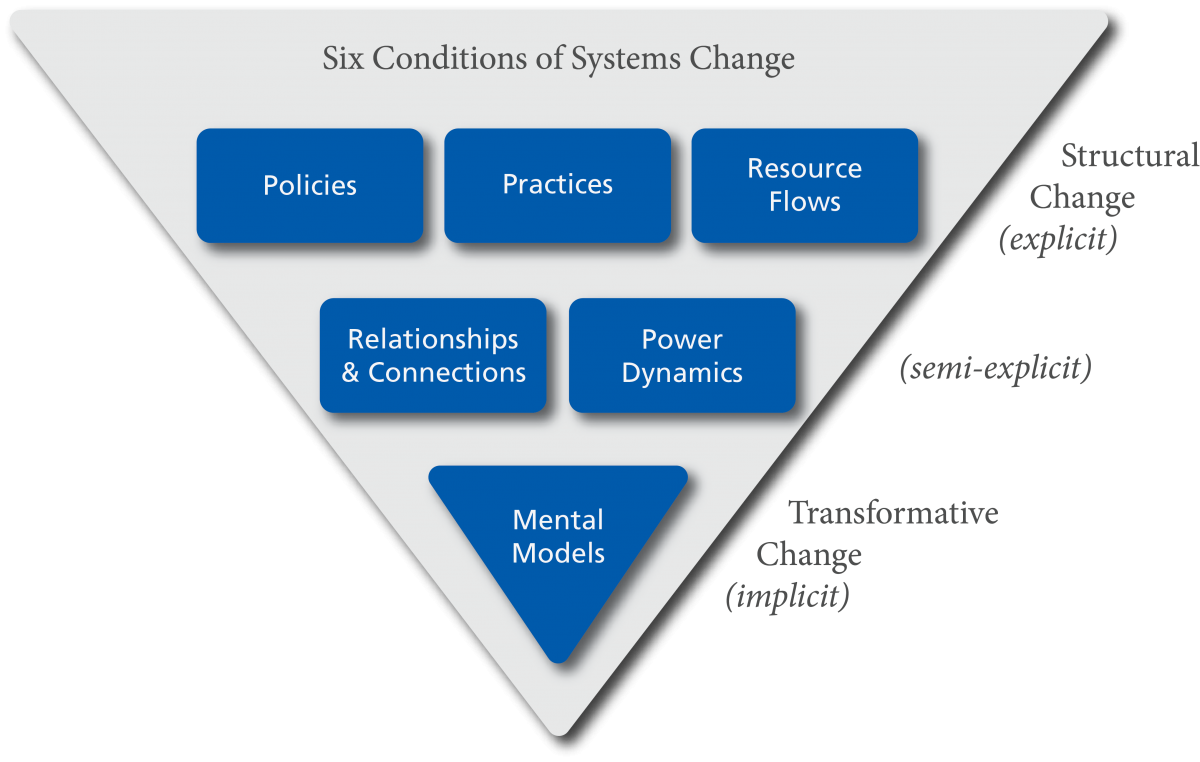 Using the FSG's Six Conditions of Systems Change, we began to conjure up one possible future where changes have occurred across the various paradigms to aid a better world in 2030 as a result of some explicit and implicit changes.
What if: Impact measurement becomes deep through widespread adoption and improvements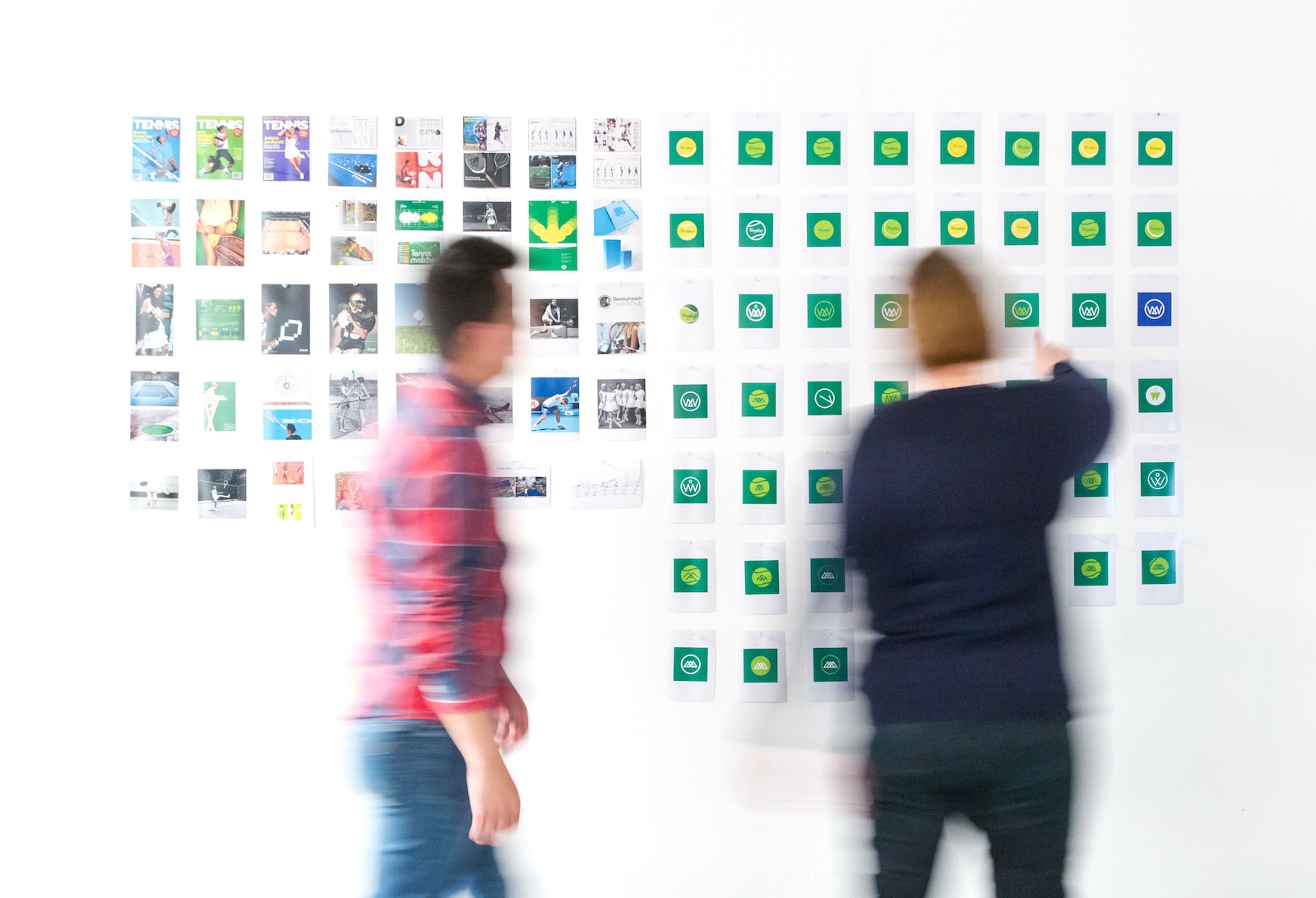 How we got to this alternate future
Increased investment in development: Over the course of 2023-2024, businesses, and governments begin to scale and deploy more technology based on such preventive and preemptive GHG calculation methodology. Project or policy design stages were considered crucial tipping points where decision-makers are able to discern transformative choices based on data. Emissions reduction technologies and methodologies gained a deeper understanding of the nature, speed, and dynamics of change in both earth systems and human systems. Through the 2020s, the methodologies underwent several iterative design processes and feedback loops to allow the more seamless collection and integration of more social and environmental metrics such as supply chain localisation and land cover data. Several companies continued to develop metrics and methodologies to track various aspects of Scope 3 and had teams working on environmental and social accounting integrated with financial accounting. Governments joined the efforts by hiring more permanent staff to not only evaluate their projects using the GHG calculation methodology but also address gaps in their understanding of Scope 3 impacts through more R&D. Market barriers are removed as more and more companies willingly make the technologies open source.

Global governance: Taking notice of this growing pressure, global governance bodies introduce more regulations and standards for GHG reductions. By 2025, the GHG protocol is refreshed with a more systemic protocol with standards of thriving natural ecosystems and people as a result of GHG reductions. Building on the IPCC recommendations concerning loss and damage and the need for adaptation, the newer protocol adapts to account for regional conditions and the pace of action needed – moving away from the "one size fits all" mindset. COP28 mandates the protocol and witnesses a historic surge in commitments and funding for the transition away from carbon. Through these, we remained under the 1.5 °C pathway and didn't overshoot our carbon budget by the late 2020s.

Societal changes: On a broader societal note, critical changemakers especially across business saw this disruption and innovation in GHG methodology as an opportunity for us to transform the foundation of our economy. Debates around the purpose of business shifted from profit to benefit people and the planet and recognising the multiplicative order of impacts a business decision/business model could make. Long-standing overconsumption patterns changed with people buying lesser but better. Alongside such transformative efforts within business models, systems such as food, health and nature were put on the trajectory of addressing past injustices and embracing radical change to the way we think, act and live within our natural environment.
So What?
If businesses are to set meaningful and ambitious targets that reflect climate science and the interconnected social justice and ecological impacts, then it is critical that impact measurement approaches likewise consider these issues.

These technologies/methodologies don't need to be created or designed from scratch, they exist, and they need to be scaled and deployed in a more meaningful manner. Disruptions can be created on a global level by massive industry-wide adoption and collaboration. Businesses/markets must act as a critical level of systemic change with their mindsets, not just their technologies.
What's next?
Take a listen to a special edition of the Futuring Podcast where Sol Salinas (Sustainability Lead for the Americas, Capgemini) joins us to chat with innovators, business leaders and sustainability experts to explore the trajectory beyond Net Zero.
Explore how businesses can adopt this methodology and go beyond calculating current emissions to inspire transformative design and decision making within our new report, Measuring impact: a methodology to inform transformative project design
Watch the conversation between Forum for the Future and Capgemini,"The Path to Net Positive: Next Generation Supply Chain Management" at ClimateWeek NYC 2022. You can view the conversation here.
Join us on this exploration of how greenhouse gas reductions can play a transformative role towards a just and regenerative future and follow the Beyond Greenhouse Gas' project
Share your thoughts with us on Twitter and on LinkedIn using #BeyondGHG
If you would like to find out more, then get in touch with us at futurescentre@forumforthefuture.org
Recommended reads
About Beyond greenhouse gases: Transforming project design through impact measurement
Co-produced by international sustainability non-profit, Forum for the Future and global information technology company, Capgemini, Beyond greenhouse gases: Transforming project design through impact measurement will explore how businesses can unlock more transformative project design and decision making, through the lens of greenhouse gas (GHG) reduction. Over the next four months, we will be publishing a series of insights and podcasts featuring industry leaders spanning sustainability, technology, and business. We will be exploring: the world of GHG accounting, climate change impacts, the importance of 'futures' thinking and how we must adapt our approaches and the way we work.
With thanks to our partner
Beyond greenhouse gases was made possible thanks to the generous support from our partner: Capgemini