Amid all the hype around the 15-minute-city of sustainable, walkable neighbourhoods, the pandemic has accelerated another kind of 15-minute-city, where everything can be delivered almost instantly to your door.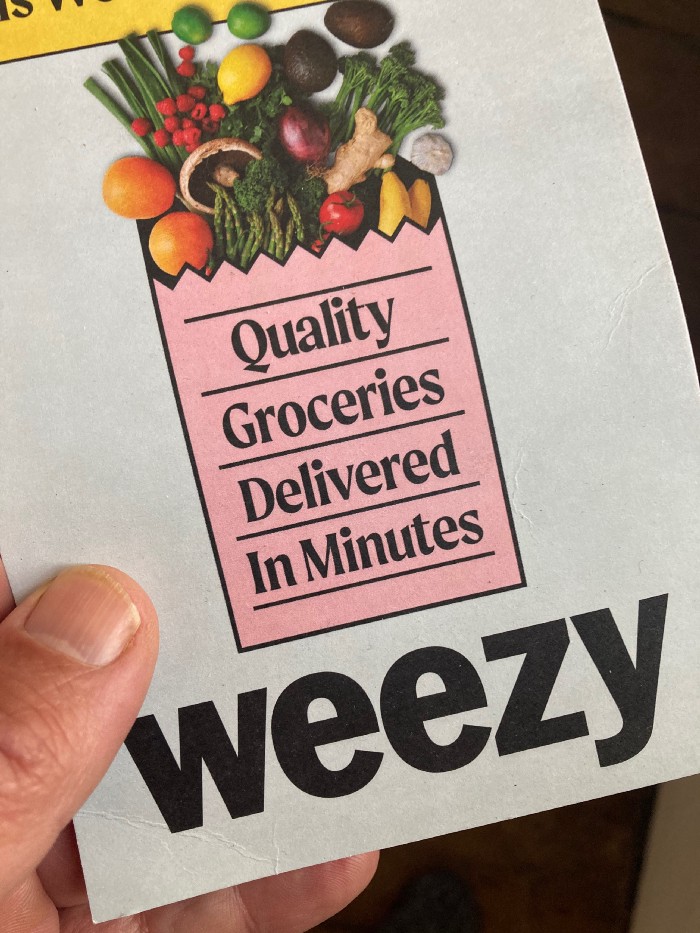 This leaflet was handed to me last week, promising 'quality groceries delivered in minutes'. Just tap an order in your smart phone and a short-while after a motorbike will zoom-up and hand you your shopping.
Welcome to the new world of Q-commerce, (short for quick commerce), the next evolution of E-commerce that's sweeping across our cities. Instead of waiting days for your delivery, you get your groceries, gear or gifts in a matter of minutes. In satisfying today's connected consumer, speed, rather than quality, is of the essence.
E-commerce and Q-commerce had been growing steadily over recent years, and were given a huge boost by the Covid pandemic. Locked-down, or just fearful of going out, more-and-more people started ordering takeaways and essentials to be delivered to their doors. As the pandemic recedes, those behaviours — and Q-commerce — are here to stay.
"Speedy delivery caters to a fundamental human desire for instant gratification".
Speedy delivery caters to a fundamental human desire for instant gratification. Psychologists think this may be hard-wired, by evolution, in our brain. Our prehistoric ancestors, living in harsh environments where they never knew where the next meal would come from, had to quickly seize whatever they found. Denying ourselves something we want is, psychologically, difficult. Companies are dashing to satisfy this desire, and the competition is fierce.
What began as speedy takeaway delivery, is quickly spreading to other product areas like food, flowers, and pharmacy goods. Established supermarkets (Carrefour, Sainsburys,) are partnering with delivery companies (Glovo, Deliveroo,) to offer selected groceries within 20 minutes. Companies like Foodpanda that started-out delivering meals now offer groceries within 15–20 minutes in cities across Asia. And start-ups such as Dija, Getir, and Snappy Shopper are joining the race.
The Impact on Cities
As the pace hots-up, what will be the impact on our cities? A lot depends on whether these new services — promising to be more convenient than a convenience store — support or supplant our local retailers, restaurants, and high streets.
Most of these platform companies begin by using existing infrastructure — shops, restaurants, roads. For a fee from the local business, they pick up and deliver to the customer.
The speedy delivery platforms quickly move on. Not wanting to rely on getting food from a restaurant at busy times, they are setting up their own 'cloud kitchens' in edge-of-town warehouses. Not wanting to rely on picking items from local shops, they are creating their own 'dark-stores' or 'D-marts' stocked with their own brands. Not wanting to rely on people to meet the punishing delivery schedule, they are investing heavily in developing delivery drones.
"Q-commerce will not be good for our already-struggling high streets".
Q-commerce will not be good for our already-struggling high streets. When you can get the essentials direct to your door, from your local supermarket, in 20 minutes, why bother going to your local store? Corner shops and family restaurants will either lose trade, or have to work through the delivery platforms giving-up a big chunk of their earnings. For example Uber Eats and Deliveroo takes as much as 30% in commission, so if a restaurant charges £10 for a pizza, £3 of that might go to the delivery company. Ultimately, these platforms will disintermediate the relationship with the customer, harvesting data and running things through their app, their loyalty and reward vouchers, their recommendations.
It's not good news either for shop-workers or serving staff. Not everyone will be able to swap waiting-tables for pedalling furiously on a bike. And because, ultimately, there will not be enough riders and drivers to satisfy the demand from all the companies delivering 'anytime anywhere', new jobs will go to airborne and terrestrial drones.
"Not everyone will be able to swap waiting-tables for pedalling furiously on a bike".
In sustainability terms, speedy delivery brings an increase in traffic, a big increase in household waste, and depending on how the services are delivered, may lead to an increase in CO2 emissions. In dense cities more deliveries are by bike; in sprawling conurbations the motorbike or car dominate. (And the lack of really good cycling maps for cities doesn't help). Some Q-commerce companies are going electric, and trying to ensure that their waste, if not reduced, is at least recyclable.
Q-commerce may not be great for the long-term health of the urban population either. We are home-cooking less and living more off takeaways. We spend an average of 90% of our lives indoors, (and another portion in cars). This sedentary lifestyle contributes to obesity and chronic disease. If everything comes to our door, and we're not even walking to the shops, what will that do to our physical and mental wellbeing?
The Acceleration of Urban Life
What will this compression of time and space mean for community and social relationships in our cities? Some citizens are drawn by the fast pace of city living; while others dislike the speeding up of urban life, complaining about fast cars, fast fashion, fast food. Some are attracted by the anonymous, transactional nature of cities; others want the bustle and interaction of city streets.
I think some patience is necessary to build friendships, relationships, and communities that last. Neighbourhoods are built on theses social connections and the interaction of people in streets, squares, shops, They come alive with what Jane Jacobs called, 'The ballet of the good city sidewalk', rather than just delivery vehicles zipping by.
"They come alive with what Jane Jacobs called, 'The ballet of the good city sidewalk'"
As a response to this acceleration of life, and building from the Slow Food philosophy, the Slow Cities movement in Italy stands as a stark counterpoint to this just-in-time ethos. They call for "Towns animated by people 'curious about time reclaimed', rich in squares, theatres, workshops, cafes, restaurants, spiritual places, unspoilt landscapes…where we still appreciate the slow, benevolent succession of the seasons…This is the joy of a slow, quiet, reflective way of life".
Of course, not all of us can live in an Italian hill-town, with its rich culinary culture; and many people are struggling to find time just to get by. But I, for one, don't want to live in a hollowed-out future city where food is cooked in anonymous out-of-town warehouses, where blank, dark, shops serve as logistics hubs, and where our streets are filled, not with people, but with speeding delivery vehicles.
Living Fast and Slow
Instant gratification is a powerful force. Technology will increasingly enable this (primal) urge and the Q-commerce trend will likely continue to accelerate. Delivery Hero, for example, has 'an ambition to deliver anything'. And in our busy lives, who doesn't want to save time?
Given, however, the potential spatial and social impacts on our cities, how can we ensure that bricks and mortar and the virtual world co-exist in mutually beneficial ways?
"How can we ensure that bricks and mortar and the virtual world co-exist in mutually beneficial ways?"
Losing local shops and restaurants, means losing jobs, connections, vibrancy. It also means losing business rates. Many of these digital platforms (AirbnB, Uber, as well as the speedy delivery companies) piggy-back on local infrastructure without putting much back in. More home deliveries also mean more packaging waste that adds to council tax bills, not the costs of the delivery companies.
City authorities are taking some steps in response. In the US, New York, Los Angeles, Chicago and Washington, DC, have used local ordinances to put temporary caps of 15% on delivery fees. More cities are sure to follow. But, this cannot be tackled just at the metropolitan level. At the national government level, a re-balancing of taxation between small, local businesses and the big, often global, delivery platforms is long overdue. There needs to be regulation, too, of the gig economy so that riders and drivers get a better deal.
We also have choices as citizens, as we come out of the pandemic, as to what kind of 15-minute city we want. With our fingers on our smart phones, we might want to pause, walk instead to our local shop or cafe, stop and have a chat, then cook a meal with friends or family, and just slow down.
This article was first published here on 4 May 2021.

---
Read next: