Alisha Bhagat, Futures Lead and Michelle Stearn, Sustainability Strategist at international sustainability non-profit, Forum for the Future, share Forum's work with NDI, the National Democratic Institute on building their Futures Anthology to imagine a future of tech-enabled democracy around the world.
---
When many people think about the future, they think about the role of technology, and how innovation will shape the world of the future. Indeed, the past hundred years have been ones of rapid technological change but technology is a tool wielded by humans. It can be used to perpetuate inequality and social division or it can be used to build community and share information. In incorporating technology into our futures work, we at Forum often think about what systems and processes tech could enable, in order to bring about a more just and regenerative world.
National Democratic Institute (NDI) approached us in 2022 to help navigate and think through ways in which tech could enable democracy building in the future. The technology and governance nexus is one we have been tracking for a while, and it served as one of the drivers of change in our trajectories report. The democratic process is one that is inherently highly participatory, and the project offered us the opportunity to expand our own thinking on the technology and governance nexus as well as put some of our participatory futures principles into action.
The participatory process
We worked with NDI to facilitate five focus groups composed of people from NDI's community spread across the globe. During each focus group, participants scanned for signals of change – seeds of the future existing in the present – that they noticed, related to democracy and technology, and mapped them (see below)
Participants then engaged in worldbuilding where they started with a positive tech-enabled democratic future. Looking across a range of contexts such as US, Malawi, Mexico, Brazil, Canada, Tanzania, among others, they considered what would need to change about the world today to achieve that future.
Participants then told the story of a single person living in that future – a user persona. The personas were all region specific and told the story of one person and how they interact with both digital technology and the democratic process. These formed the Imagining section of the anthology.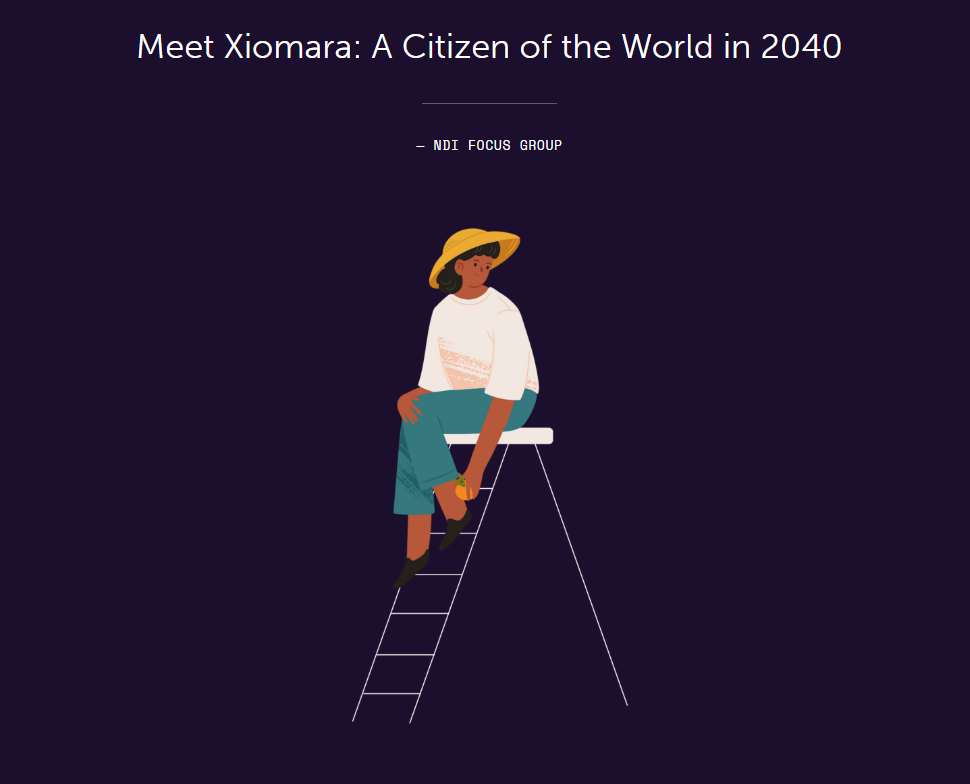 Here are some thoughts from the focus groups:
"More global policies around technology and how we manage data, (e.g. election data, personal data) while still protecting freedom of speech"

Participant from Chile
"Free, open internet is the enabling factor for a positive future of democracy"

Participant from Nigeria
"Digital technology will increase political participation and make it easier to hold leaders accountable."

Participant from Malawi
Explore signals of a Positive Future of Democracy
What does the world look like in a tech-enabled democratic future?
Overarching themes from across our focus groups
In order to generate a clear vision of potential pathways for a tech-enabled democratic future, participants ignited their creativity to put themselves "in the shoes" of each persona and deeply imagined what democratic processes look like in the year 2040. Across all five focus groups, there was a clear emphasis on community interconnectivity – how will future generations create deep linkages to advance progress? Will political organizing take place on Twitter, or somewhere else in the metaverse? How will governance structures and democratic processes flourish within a climate-disrupted context?
A number of themes emerged across the focus groups and personas, as participants engaged virtually to build the future visions, based on their unique context.
The virtual focus group sessions themselves illustrated one of the principal themes: internationalization of issues and movements. Participants imagined how globalization would contribute to dissolving national borders, as digital pathways create solidarity amongst previously disparate countries and regions.
Participants also emphasized the need for control of misinformation/disinformation on social media; while also using social media as a tool for decentralization and community control of political narratives in the media. While some cited the inundation of information as a driver of people feeling overwhelmed and confused, others focused on the fear of data being misused and lack of privacy. With these contexts as a foundation, participants envisioned how democratic processes could address the need for freedom of access to digital tools to enable greater participation, transparency, and accountability in government.
Across all five sessions, there was a focus on future lives taking on a "hybrid" quality: people of the future will need to seamlessly traverse between digital/artificial/virtual realities and physical world to influence policy and democratic organizing and decision-making. As one participant reflected, the leaders of the future will have "grown up as TikTok-ers." This shift was based in many participants' observations that as the young people of the current generation grow and take on more leadership, their fluency and agility in technological realms will define what it means to participate in democracy.
So What?
The outlook for the future of democracy seems positive, but digital technology has the potential to be a barrier or an enabler. There is also a need for greater participation in the democratic process, particularly by young people and digital natives who are well aware of the limitations and regulations needed for technology to be truly useful.
A participatory futures project across different geographies emphasized the need for different tools and formats for engagement. Some participants gravitated towards signal scanning whereas others preferred the user personas and telling a story. The breadth of formats in the focus groups and the futures anthology make the work more accessible and exciting, and ultimately more impactful.

We hope you will take the time to browse the anthology and see if any of the futures described challenge your assumptions about the role of digital technology in democracy.
Explore the futures generated
Tell us what you think
How would you imagine a world in which a positive future for democracy has been realized? What would need to change about the world today?
What role does digital technology play in achieving that world?
What positive signals do you see at the technology and governance nexus?