ChatGPT is a natural language processing AI that answers questions on a broad range of topics in a conversational manner, fast. It has set itself apart from other AIs for demonstrating rapid learning ability, and more importantly, it's freely available to the public. OpenAI has a stated goal of promoting and developing friendly AI in a way that benefits humanity as a whole. As the debate over the implications and limitations of the technology comes side by side with wider recognition of the catalytic potential for change, a question develops over the responsible application of AI to the world's most enduring problems – climate change being top of the list.
In the wake of monumental engagement since the powerful ChatGPT3 release last November, we all had the sense that this is just the beginning and it can have (and has had) spillover effects on our behavior, our work practices and systems, and our connectedness as humans. Last month, Forum for the Future's UK/Europe team discussed ChatGPT, exploring our thoughts and questions about how it will be used, what implications the new open-access tool could bring.
With climate impacts increasing in frequency and socio-economic and political systems in whiplash under the pace of change, it feels likely that the dramatic shifts that ChatGPT and other similar open-access AIs can bring will push our system further away from the status quo – but how could that look?
With the rapid pace of change in mind, here's what our team discussed:
System tweaks
ChatGPT is disruptive because it is more efficient in language analysis and generation than humans, and is expected to only continue to improve in its accuracy. With Microsoft's recent $ 10 billion investment in software, it's clear that there are huge shifts for productivity just around the corner. In our session, we discussed the implications of a dispossessed workforce in the face of these developing redundancies.
Of late, leading tech firms in Silicon Valley have been making massive job cuts, leaving many concerned about the future of their careers after training in tech – which was once seen as a golden ticket to a well-paid, in-demand career. AI forcing job redundancy is not a new phenomenon, but ChatGPT seems to have leveled the playing field.

Several recruiters have seen upticks of the chatbot's usage in successful job applications; our team member shared anecdotal side-effects of this from their partner's recruitment drive: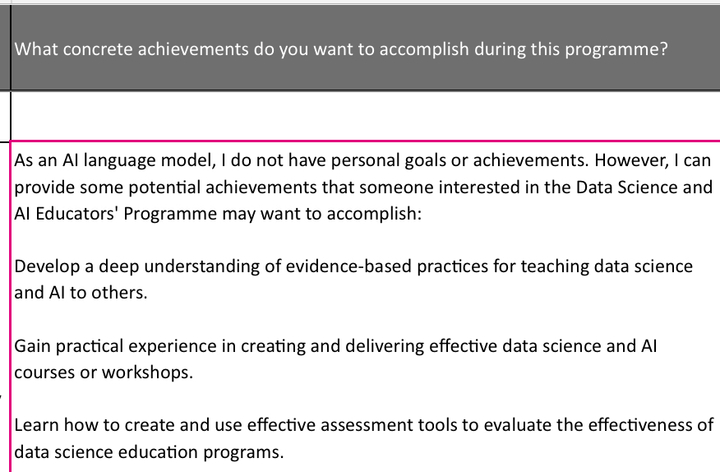 Earlier AI developments threatened quantitative analysis and labor sectors, and ChatGPT now poses more direct and existential threats to the arts sector. Education faces being undermined as students successfully turned to ChatGPT to write assignments, and there was significant momentum from teachers to ban the software for such reasons. However, a 22-year-old student created a system stabiliser, for now, with an app that detects ChatGPT plagiarism. Another historical golden ticket sector, law – are facing threat too. ChatGPT4 is scoring in the top 10 percentile of applicants to the US bar exam, and it will only improve. Its younger version, ChatGPT3, was only scoring in the lower 10th percentile.
What new jobs can emerge? Can we work faster to solve more complex challenges, like issues around climate change?
Data concerns, power and responsibility
Responsibility was peppered throughout our discussions – who is responsible for ChatGPT? How can we verify it? Who wrote it, who manages it, who has the power to take it offline?
Italy's recent decision to ban ChatGPT highlights this; the software has been banned for not having a legal basis to collect personal data to inform the model's learning, it has no inbuilt age restrictions, and Germany is considering following suit. Not including age restrictions in design is an oversight that shadows the useability of this tool.

ChatGPT learnt from relatively short-sighted data sets; it is based on a 2021 English language dataset from the internet, and likely will keep learning in this way for now. But not everyone has access to the internet, and not everyone speaks English. When the bilingual members of our team tried ChatGPT in other languages, there was a sense that it thinks in English and then translates itself, and the nuance and spirit of a mother tongue outside of English is lost.

How will the biases of developers and datasets used to develop ChatGPT influence its evolution, and (how) can they be named and addressed? And if not, how will this have the potential to reinforce past power dynamics regarding language and the perspectives we interact with?
This is a dataset issue arising from the lack of diversity, equity and inclusion in the training dataset, and alludes to historical patterns when certain perspectives are favoured or excluded. Could a decision to ban the tool in Europe give rise to development of regional tools more tailored to language and cultural norms, inclusive of indigenous and minority cultures?
Emotional/cultural uses
A bereaved son used it as a coping tool by feeding letters from his late father into the software and asked it to generate responses to 'have' conversations with his father. It's not the first time humans have used AI as a companion. Users of Alexa and Echo still find themselves saying please and thank you to it. However, there are trends pointing to increased isolation within communities across the globe, which was exacerbated heavily by the pandemic. Could getting responses on demand exaggerate a move away from key relationship skills? As many spend more time at home in new working patterns and as technologies develop, could the rise in parasocial relationships stretch to forming relationships with technology?
How is this going to challenge our 'human experience' and need for connection? Consider climate anxiety and ecological grief, a rising phenomena within younger demographics (who are also more technologically adventurous); great change has been made by swathes of populations expressing their fears and outrage in community with one another. Whilst we process emotions in a way that is unique to ourselves, it is critical for our quality of life we do not lose the courage to express ourselves, loudly, and the confidence in the power of communication to shift realities.
How does it help the team and for our work to learn more through ChatGPT – can it simplify some of our processes?
Our team commented that it was helpful in providing a baseline understanding of new topics, one of them used it to draft their yearly targets, while another was excited to ask it to build base code for a simple systems model. For our work in food, energy and business, our focus is on transformative change on a long term horizon – so how does it fare when thinking about the future?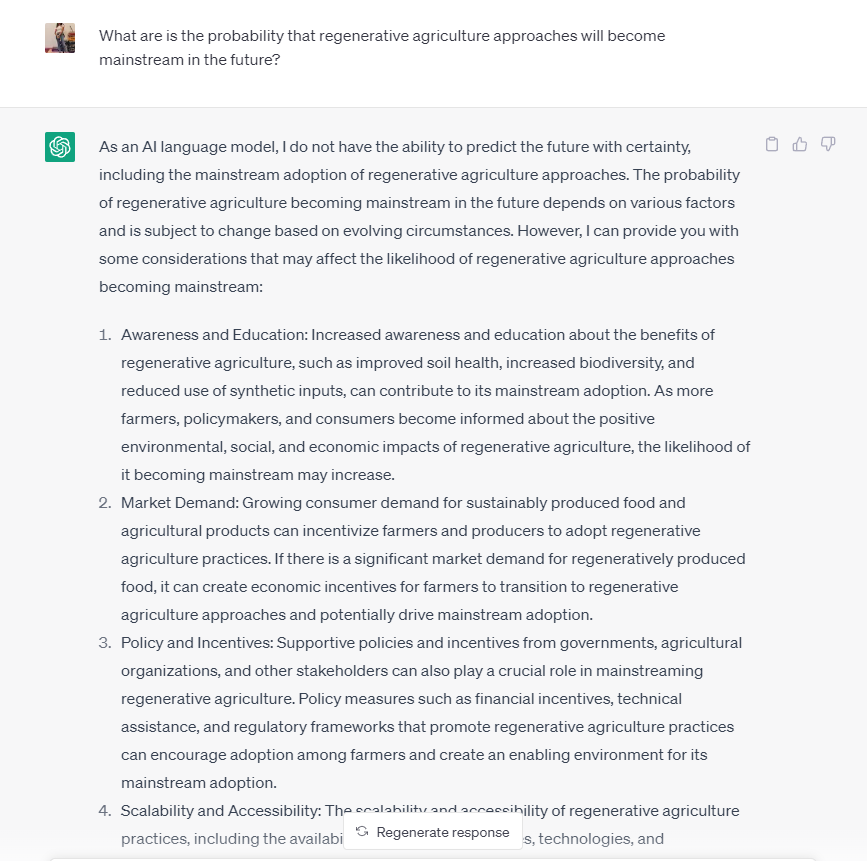 We wanted to explore ChatGPT's understanding of the probability of regenerative agriculture going mainstream as part of our work in food. While we got a well researched response it fell short of anticipating (or rejecting) ambitious growth in the practice. Understandably, given how it is trained on past data, there was no future casting and it faced challenges when it comes to more complex writing capacity such as scenario building and seems to lack long term thinking embedded in its response. What's more, it doesn't seem to embed the need for behaviour change or mindset shifts, despite the evidence it shares arguing for it. In short, it steers away from creating any 'new' ideas.

Would it be best used to capture models to exemplify the communications rather than generating ambitious strategies? Can we use ChatGPT constructively in working towards a just and regenerative future by amplifying our research skills possibly?
So What?
Ultimately when we were reflecting on the purpose and responsibility of ChatGPT, it became quite clear that ChatGPT, first and foremost, is a tool. One that has the potential to bring automated efficiency to our lives, streamline our information and management processes, and much more. However, the ease with which we get a response doesn't decrease the need for human judgement and critical nuance, as it is what we do with our information that creates change, not just the generation of it. Using ChatGPT doesn't supersede our decision making responsibility as changemakers and as humanity widely. Much more, the concerns outlined above about equity in data sources used, and narratives dispersed create a fundamental risk of further marginalisation, if we rely too heavily on a product in process.
With such vast potential, it's very difficult to know the answers to the many questions raised in this insight, but we hope they have led you down a path of reflection. ChatGPT is a boon and bane for all and every industry and it is important to question how it will play out in our sphere when thinking long term. The potential benefits of ChatGPT and other open access AIs will be found by thinking creatively and in a participatory manner, with as little barrier to access as possible (excluding age restrictions).
Keep reading

Regional Sensemaking
Every month, our global teams gather to look for signals of change and engage in rapid generative scanning to bring you our glimpses of the future. What are the implications of these signals? What bigger trends are they pointing towards? What if these various signals of change interacted with each other? What would that lead to? We know climate change impacts will affect regions unfairly, so why not produce multiple futures catering to our various contexts – social, cultural, environmental, and more?
Want regular insights and glimpses of the future straight to your inbox?