Every quarter, the SG team looks across the horizon to follow key developments and drivers across the region and observes them with a systemic lens to understand their current and future implications. These range from environmental to political developments that can impact and influence SG's sustainability trajectory.
---

In the last few months, Singapore has seen developments across a wide range of environmental issues. The agreement on a new global treaty governing the high seas has led to calls for a Singapore 'Blue Plan'; attacks by wild crows on people led to discussions around human-wildlife conflict, managing crow populations, and the role of urban food waste in contributing to high populations. In local food production, a new food recognition scheme, Farm-to-Table (FTT) recognition programme, was introduced by Singapore Food Agency (SFA) and local associations to encourage sourcing of food from local farms.
Amidst this background of varied environmental issues, we focus on two major developments – around plastics and energy – that have seen considerable policy and/or citizen involvement. These developments are also further along in terms of their depth and interconnections to other emerging sustainability challenges; there are important implications for mitigating future impacts related to both these sectors, which we will share in our analysis.
Sports shoe scandal highlights challenges within Singapore's recycling sector
In February, a Reuters' investigative piece revealed a scandal involving a sports shoe recycling initiative spearheaded by American petrochemical company Dow Inc. and the Singapore government. The initiative promised to upcycle materials from unused and unwanted shoes to build running tracks at sports centres across Singapore.
However, when Reuters placed concealed trackers into the shoes, it was revealed that none of the 11 tracked shoes were turned into the running tracks in Singapore. Instead, nearly all pairs wound up in various parts of Indonesia via a secondhand goods exporter, with one pair remaining at a public housing project in Singapore.
When this was brought to light, Singapore government agency SportSG released a statement apologising to the public for the lapse and thanked Reuters for the revelation so that steps could be taken to remedy the situation.
Implications for Singapore
The incident was a rude shock to the sustainability community and resulted in strong criticism from green groups and the general public, of all the corporate players involved and SportSG, for misleading people. As many green groups have mentioned, the scandal erodes the already unsteady trust in Singapore's recycling system, where consumers are not confident of where their recycled items end up. The lack of integrity, transparency, and accountability in the system may hinder progress in recycling and building a more sustainable and circular economy.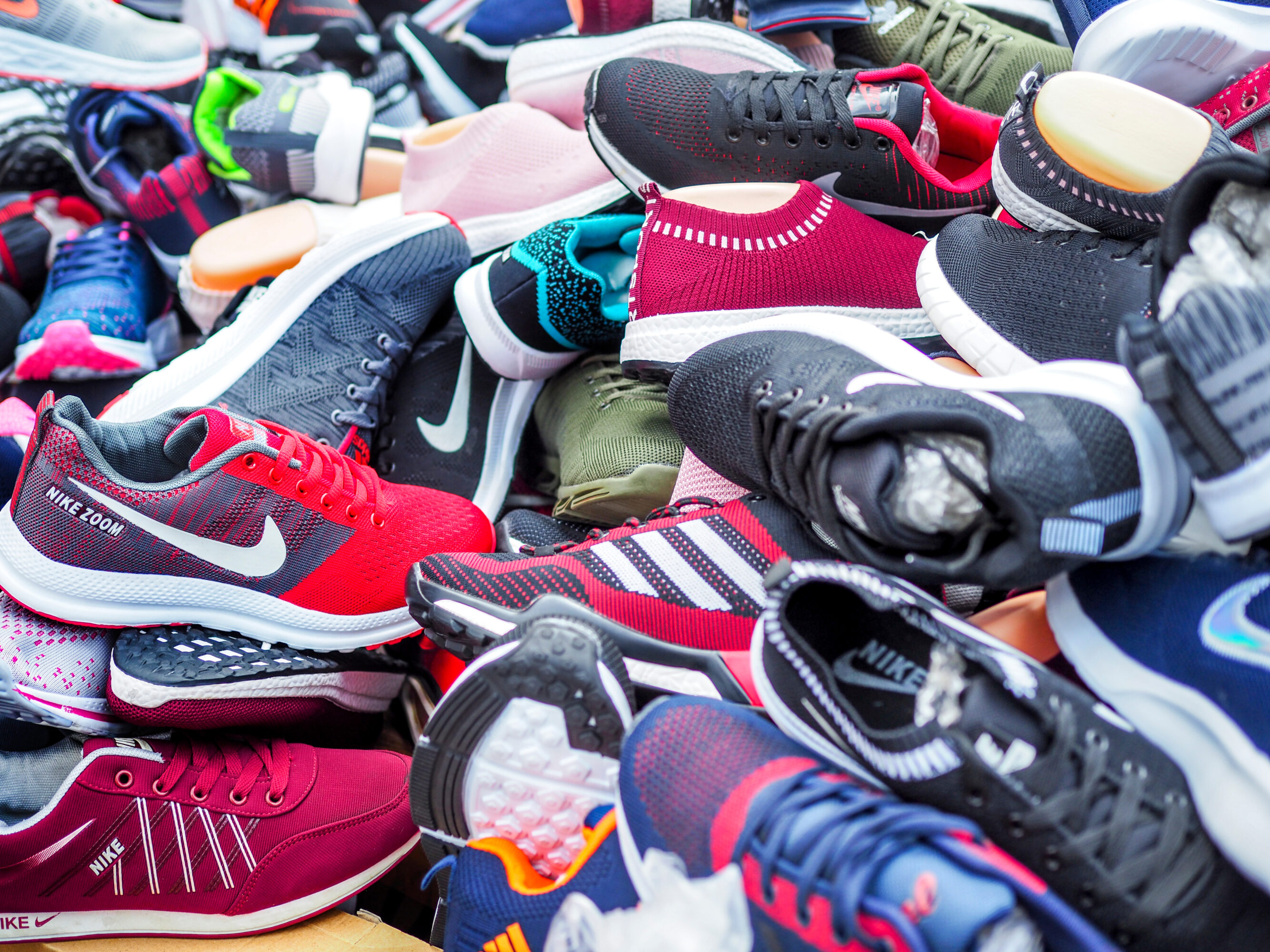 Sports shoes for sale in Jakarta, Indonesia. Photo from Shutterstock.
Singapore has traditionally had a low rate of domestic recycling, with the rate at 13% in 2021, a 10-year low and a drop from between 17% – 22% between 2017 and 2019. The government plans on raising this rate to 30% by 2030. In March, the Bloobox initiative was rolled out to support home sorting and recycling efforts by offering all households a receptacle to hold recyclable items from each household.
Yet much more needs to be done to improve recycling rates and efforts need to be placed on collaboration and trust building if Singapore is to shift towards a truly circular economy. As evidenced from the shoe recycling incident, the government first needs to work towards changing the mindsets of Singaporeans and instill trust that the recycling system in Singapore works as it should, and actors within this system are reliable, trustworthy, and can be held accountable. Cross-sectoral collaboration and transparency must be strengthened so that companies work closely with government agencies as well as civil society.
Singapore's renewable energy imports connect it to the region's energy transition
Singapore's move towards renewable energy, specifically its plan to import 4 GW (30% of its projected energy supply) of low-carbon electricity by 2035, is linking Singapore with various countries across the region. Arguably the most impressive among these was Powerlink, an energy project that would carry 3.2 GW of electricity from solar projects in Australia via undersea cables to supply to Singapore and Indonesia. In early 2023, these plans fell through as the entity developing Powerlink, Sun Cable, went into voluntary administration.
Despite this setback, plans to import electricity regionally have remained active. Singapore and Indonesia signed a Memorandum of Understanding (MoU) on Renewable Energy Cooperation in March 2023. The MoU sets the stage for further investments in renewable energy manufacturing and deployment in Indonesia and the development of frameworks and transmission infrastructure for cross-border electricity trading. The electricity to be exported covers mainly solar energy, but also includes hydrogen and ammonia when viable. Around the same time, the Malaysian government mentioned that it would be reviewing the previous government's ban on renewable energy export.
Passing through Malaysia and Thailand, Singapore had also already started importing energy from hydropower projects in Laos in 2022. Laos has presented itself as the "battery of Southeast Asia", exporting around 80% of the power generated locally to Thailand and Vietnam, accounting for 30% of its exports by value. Further demand for clean energy and the risk of overreliance on hydroelectricity, seems to be leading to a shift towards wind. A 600 MW wind farm, with 133 wind turbines covering 70000 hectares, is currently being developed in Laos' southeastern mountains, with the output to be sold to a Vietnam state-owned power company for 25 years.
Going vertical locally for renewable energy
While discussions on energy imports continue, Singapore also appears keen to develop local renewable energy capacity. In early April, the Housing Development Board (HDB) said that it aimed to install solar panels at up to 1075 HDB blocks by the third quarter of 2026. Some regulatory hurdles might need to be addressed, however, as project developers seek clarity over a 2020 fire safety rule that could increase project costs by 70%.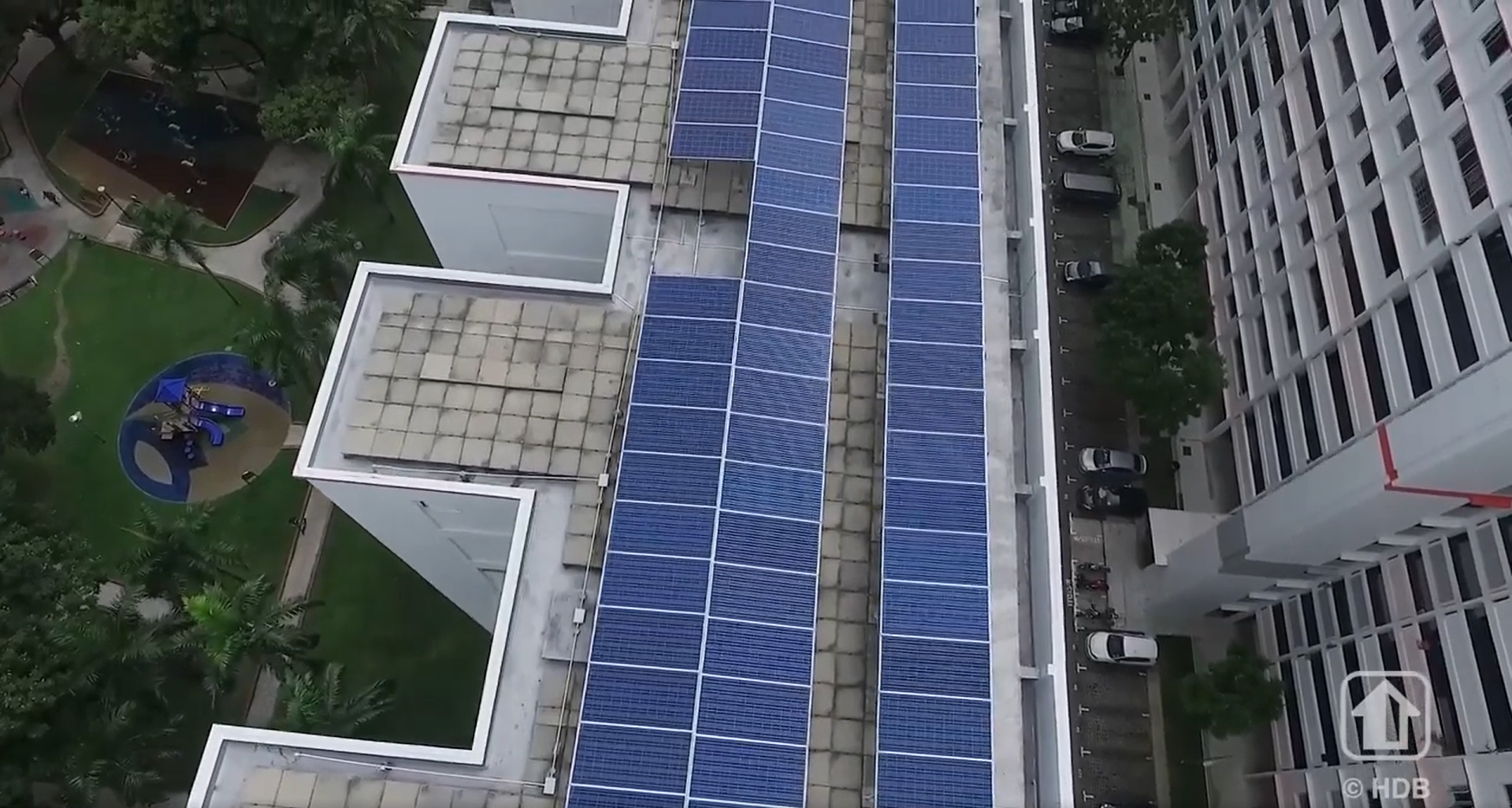 Solar panels on the rooftops of Housing Development Board blocks of flats in Singapore.
Source: Housing Development Board, Facebook.
Implications for Singapore
Singapore's decarbonisation efforts link the country to the wider regional shift towards renewable energy. Cross-border trade of electricity also mitigates Singapore's lack of enough land space necessary to develop substantial renewable energy capacity for itself.
Importing 30% of electricity from low-carbon sources by 2035 is ambitious, and it requires a region that is willing to share its electricity. Diverse sources of electricity import might mitigate some risks. Unsurprisingly, in a scenario where the world is fragmented, the contribution of electricity imports to Singapore's energy mix is greatly limited and also makes the country more exposed to geopolitical shifts (see Singapore's power sector's 3 scenarios by 2050 published in March 2022 by the Energy Market Authority).
Efforts to decarbonise might also ramp up renewable energy adoption in other countries, such as in Indonesia. To demonstrate the scale of planned capacity, a planned solar facility in Indonesia's Riau Islands (of 3.5 GW) is greater than the entire country's current installed solar capacity.
However, import of energy to Singapore also poses some risks for the region. Despite supposed low-carbon credentials, large-scale hydroelectric projects have severe impacts on both upstream and downstream ecosystems, and dam creation often displaces communities from their ancestral homelands. The scale of energy generation and export from Laos suggests reasons for concern, as Singapore, by virtue of energy import, contributes to these adverse impacts.
Development of wind and solar energy, while much favourable compared to the import of hydroelectricity, still carries potential social and environmental risks that will need to be addressed. As an importing nation, what responsibility will Singapore have in addressing such risks? This is a critical question it needs to examine, if it is to achieve the goals in its Green Plan in a manner that is environmentally safe, rights-respecting and socially just.
Get in touch
We will be following these and other important developments, and observing them with a systemic lens to understand their current and future implications.

Give us your take on other key developments in Singapore's sector, and make sure to follow these digests for future analyses and updates.