The use of electronics in measuring and monitoring human bodily function is already widespread in medical care, and personal data apps are proliferating. But how well can these electronics adapt to the dynamism of our bodies? After all, we come in all shapes and sizes, and our internal organs move and grow.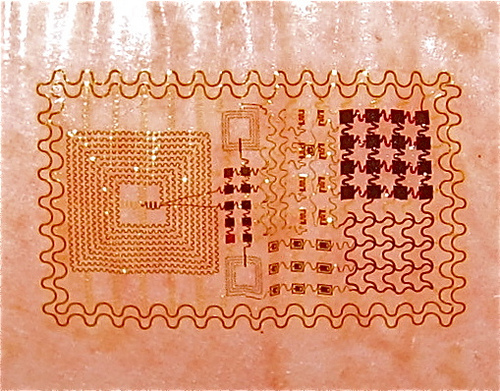 A new technology is being developed to respond to this challenge: stretchable electronics. This could lead to many more applications in the health industry, and enable better monitoring and more targeted and appropriate treatment.
The design – pioneered by materials scientist John Rogers of the University of Illinois, USA, and being commercialized by a company called MC10 – mimics the natural elasticity of the skin. The malleable product is 50-micrometers 'thin', with an adhesive polymer back, very similar in appearance to a medical plaster or band-aid, allowing for organic freedom of movement. The interface can expand and contract in line with organic bodily shifts, thus rendering the body almost unable to sense it, while retaining its technological integrity and performance. The potential scope for utilizing this technology is vast: it has already been used to detect chemicals in sweat, and for monitoring heart and muscle activity.
The technology combines the use of new stretchable polymers, gold electrodes, nanotechnology and smart phones to combine the medical technology with the constantly evolving information technology sphere, allowing individuals to monitor their own symptoms or progress. The stretchable hardware itself is cheap to produce, utilizing basic components such as electrodes and rechargeable batteries (depending on its role). The data collection and analysis is tackled later when the information is sent to smartphones and/or computers.