Find out why and how to spot signals of change with the Futures Centre.
WHAT IS A SIGNAL OF CHANGE?
A signal of change is like a seed of a possible future – a development, idea or innovation that points to a future possibility which is different to what we see as norm today.
HOW CAN TRACKING SIGNALS HELP DRIVE SUSTAINABILITY?
By tracking signals of change, we can monitor what's happening in the world and use this knowledge to explore and anticipate what the various futures available to us might look like. In turn, this allows us to more deliberately create the future we want – mapping out what interventions are needed to either reinforce signals of positive change or to prevent negative change from becoming mainstream. This is critical in addressing global challenges and influencing systems to steer the world onto a more sustainable trajectory.

WHY DO WE CROWDSOURCE SIGNALS?
Our ability to map the early signs of change in the world and use this knowledge to drive systemic change is hugely dependent on the quality of the database and, importantly, on the diversity of its inputs. In other words, the value of futures for sustainability depends on two main variables:
– how early we spot signals of change – ideally, way before they reach maturity and turn into trends
– how diverse (by geography, industry, demographic) they are. This is where the community of contributing signal spotters becomes a critical factor in maximising the potential behind futures
WHO CAN SPOT SIGNALS?
Everyone. You don't need to be a futurist to spot signals of change. All it takes is a bit of practice and curiosity. We all come across signals of change every day – we just don't necessarily recognise or call them as that.
WHY GET INVOLVED IN SIGNAL SPOTTING?
We are rapidly running out of time to avert the worst of the climate and biodiversity crises but as conversations gather pace on how to 'build back better' post COVID-19, we have a once-in-a-lifetime opportunity to reimagine how the world works; the Futures Centre is a collective resource and tool to help us do that.
Although we often hear individual actions make no difference, in this case, the opposite is true. Get involved in tracking signals to contribute your specific context and point of view to the collective futures brain and to drive positive change.
READY TO GIVE IT A GO?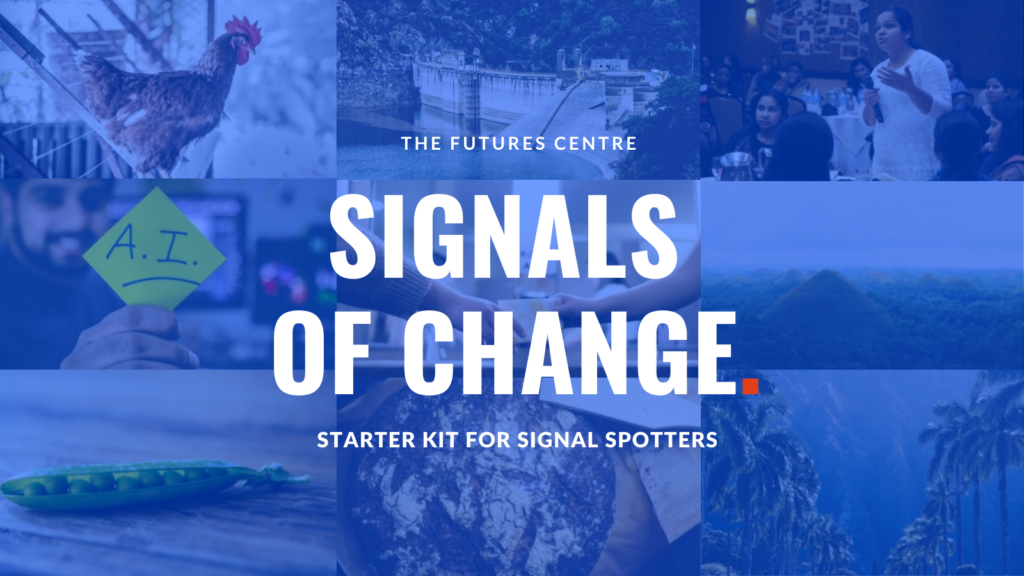 And here's the signal submission form.